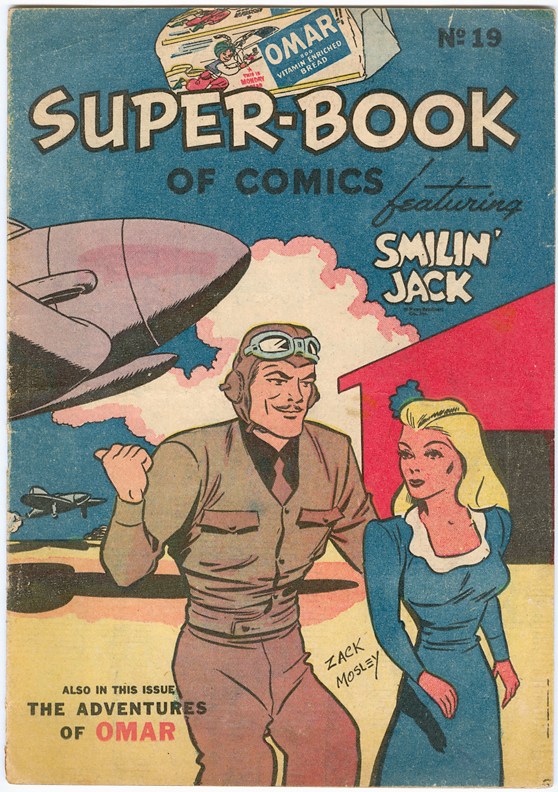 Published in 1946. Posted by the Web-Ed on 12/24/2010.
Next in our Smilin' Jack series is perhaps the most important spanking that occurred in the strip. We hesitate to make that judgment although we think we've now seen all of them, but when your lead character spanks his employer's daughter (who also happens to be the woman he's going to marry later in the strip's run), thus winning her father's respect (and perhaps hers too), it has to be reckoned a significant event.
Before we get to the good stuff (the spanking), we should mention that the scans we see here were taken from the fourth time this sequence was put into print, from the Super Book of Comics that was offered by Omar bread. This is not the only time a spanking scene was found in a food-item giveaway (see Captain Marvel Spanks Wildcat for Wheaties' contribution to the literature). It appeared originally during Smilin' Jack's newspaper run (1940, exact date unknown) and then was reprinted in Dell's Popular Comics #94 (Dec. 1943, which also featured an unrelated M/M spanking from Gasoline Alley on the cover!) and Four Color #58 (1944). It may even have been reprinted again in 1947 for another giveaway, this one by Western Oil Co.(!), but that's just our guess and these books are so scarce we have no way to know for sure at the present time.
As part of our Great Golden Age Search we looked at every Dell comic we could find, but these three were not among them. Therefore, we are grateful to SpankingPanels.com, who have their own copy of the book, for most of the scans we see here.