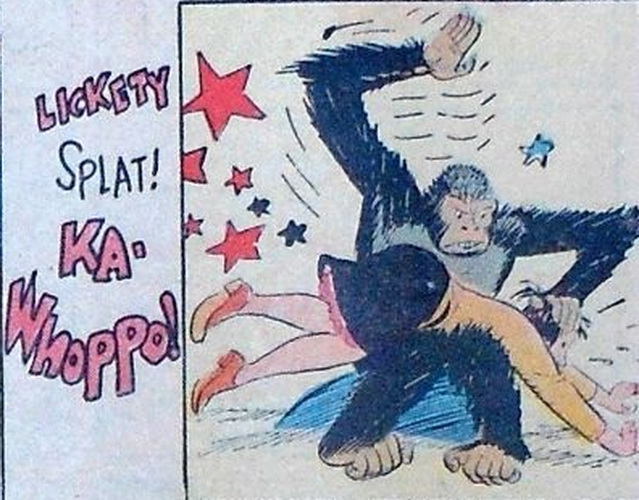 © Newspaper Enterprise Association. Posted by the Web-Ed on 07/30/2010.
The sixth X/F spanking in Captain Easy is a rather unusual one, as the spanker is a gorilla - a male, so this is another welcome M/F scene to go with four others and one F/F from the strip - see complete index below. Our spankee is former circus strongwoman Lulu Belle, whom we have seen spanking Argyle Brandywine and his mother Mrs. Brandywine, and watching Easy spanking the Wolf Girl. Very good OTK positioning and an energetic whacking makes us wonder exactly where a gorilla learned how to give such a good spanking. We'll see the complete Sunday page in a moment, but first, the index:
Gorilla spanks Lulu Belle - this page.
With six solid adult X/F spankings, Captain Easy must be regarded as one of the more important spanking strips in addition to its importance in comics history. As it occurred in 1943 near the end of Roy Crane's run on the strip, this is probably the last spanking he did in it.
Now let's see how Lulu Belle got herself spanked. There isn't much preliminary in this strip, but a newspaper headline in caption form tells us that Lulu has been kidnapped by a male gorilla who has mistaken her for a female of the species. She attempts to slug him, and gets taken over his knee for her trouble (the post-spanking expression of satisfaction on the ape's face is priceless as Lulu rubs her still-smarting rear!).