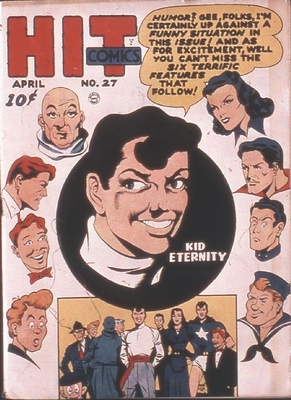 From Quality Publications. Posted by the Web-Ed on 08/06/2010.
Kid Eternity was a rather unusual super-hero - he had the power to call up any person from the dead and secure his assistance. Famous figures from history were usually chosen, although we don't think we'd describe his tales as primarily educational. It always seemed to us that the dramatic weakness in his adventures was that Kid Eternity literally had to call on others to do his fighting for him (sometimes he would get into a fistfight himself), which always kept him somewhat removed from the action. Despite this, the Kid was quite popular, quickly taking over as the lead feature in Hit Comics, eventually getting his own book, and later being reprinted probably more often than any other Quality super-hero after Quality was bought out by DC.
Having gone through the majority of his adventures, we've found only one spanking, from Hit Comics #27 (April, 1943). It's actually an uncommon double-spanking, like the well-known one from Smilin' Jack. [We know of only one triple-spanking, in Batman #137, and one quadruple spanking(!), coincidentally found in Kid Eternity #12 in a back-up feature called Jasper Dewgood (see the Comics Spanking Data Base for more information)].
Now let's meet our unlikely cast of characters: