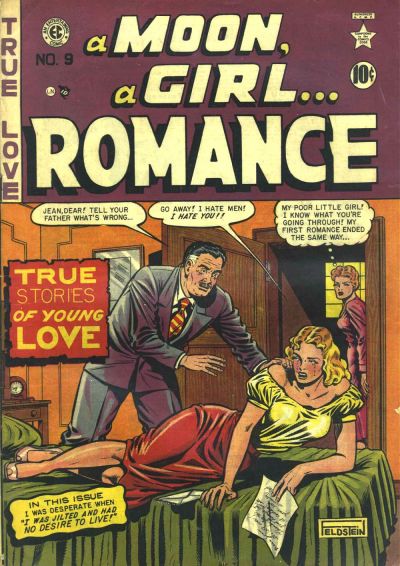 Art by Al Feldstein. © William M. Gaines
This story is taken from A Moon, A Girl, Romance #9 (September-October 1949), published by EC just before their now-classic New Trend line began (more about the New Trend below). Why the strange name? Probably because EC was trying to convince the Post Office that this new romance title was a continuation of Moon Girl, EC's only superhero title (which it was, judging by the numbering and the fact that Moon Girl appeared one last time in this issue's "I Was A Heart Pirate") in order to satisfy some rule about second-class mailing rates. The writer is unknown, but it could have been Al Feldstein, who wrote many of EC's stories and coincidentally drew this issue's cover, or Gardner Fox, who wrote the first Moon Girl story. The artist was Graham Ingels, who is mainly remembered today for his work in a completely different genre (see below).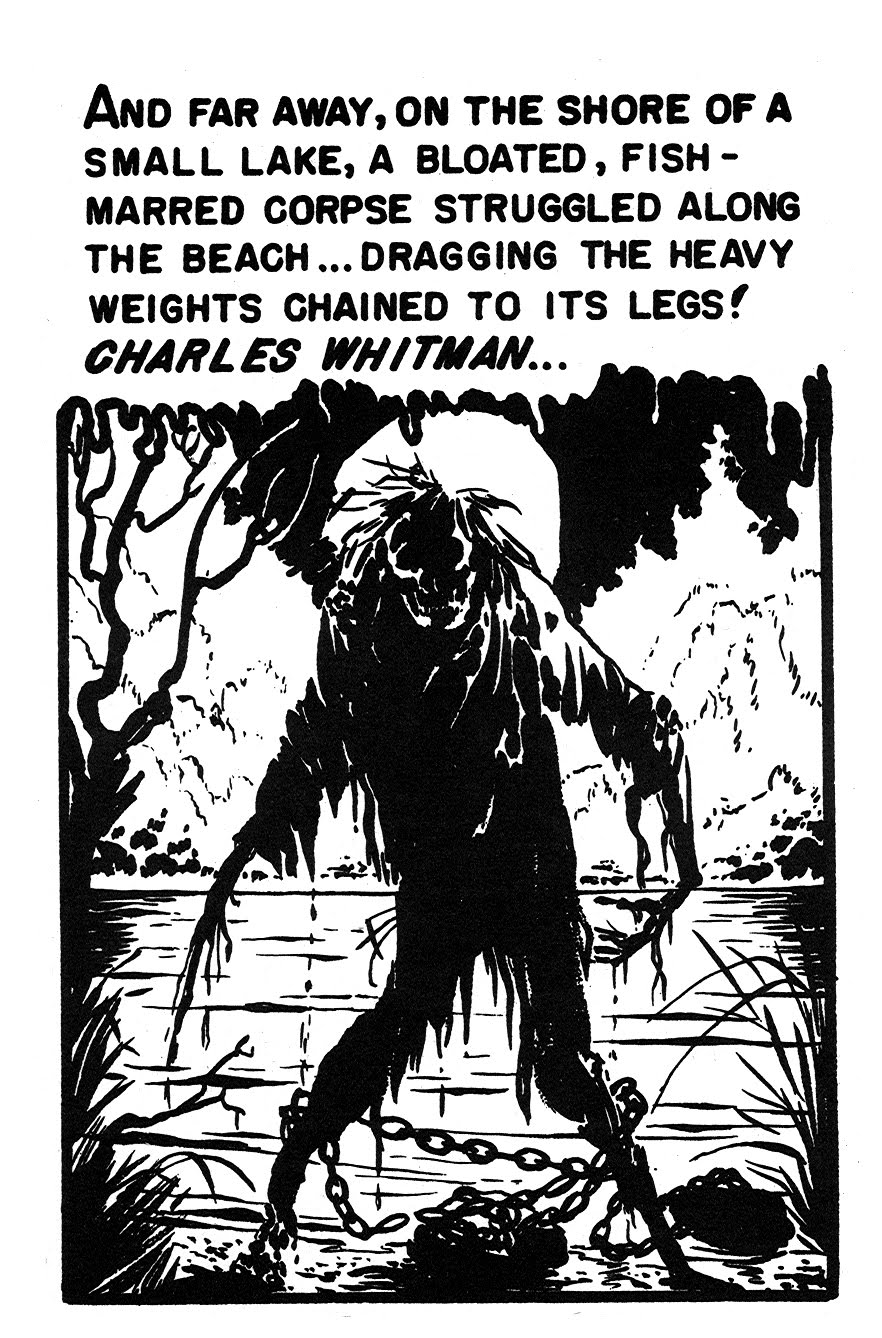 Art by Graham Ingels. © William M. Gaines
Ingels was best known for his work on The Haunt of Fear, one of EC's New Trend books which, like the other Horror titles, sold very well. His rotting corpses were beyond compare (see the example at left), and his solid work in other genres is a tribute to his versatility. At first glance, you'd never guess that the same man who drew "I Was A Flirt" also gave us the walking corpse of Charles Whitman. Sometimes you just don't know what an artist can do with a particular style or genre until you give him a chance with it, and "typecasting" him could deprive you of some very interesting work.
This is what happened to Ingels after EC publisher William M. Gaines was forced to cancel the Horror line by the requirements of the new Comics Code Authority (discussed briefly in our page on Frontier Romances #1). So well-suited was he to the horror genre that he had became known as "Ghastly Graham" Ingels, and found it difficult to get work after Gaines had to finally cancel all his remaining books except for "MAD". Had the editors of the various Romance titles (still going strong in the mid-50's) been aware of Ingels' work on A Moon, A Girl, Romance, he might have gotten more assignments - and we might have gotten more spanking panels like this one!
Let's savor the spanking panel again, first from a scan of the original art and then from the color page. The B & W version has certainly been seen before, for example at Shadow Lane, while the color version has been featured on Chross and perhaps elsewhere. The positioning is just a little awkward, looking better as Ingels drew it than it would in actual practice (it would be difficult for the spanker to maintain balance and control like this), but a fine scene nonetheless.