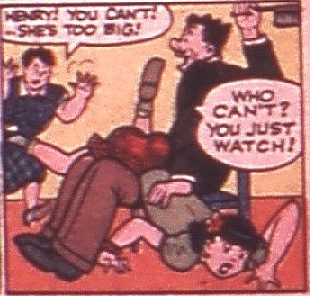 From Quality Publications, now in the public domain. Posted by the Web-Ed on 08/06/2010.
Here we have yet another original discovery of ours. It came from Crack Comics #39 (Autumn 1945), the very next issue after the one with Beezy spanking his sister Betty. Although not as good as that one, it's still a welcome sight. Kiki Kelly was a one-page filler strip written and drawn by Bernard Dibble, who also did Beezy. As a matter of fact, this was Kiki's first appearance, and certainly the kind of debut of which we heartily approve.
Since we have two spankings in two issues, and since Dibble probably also did that other spanking scene in Beezy, we might begin to suspect him of being a closet spanko, but then he also did Molly the Model (not to be confused with Marvel's later Millie the Model), and Molly, who would have made a most delectable spankee, was never spanked as far as we know. Of course, there are a few issues of Crack Comics we haven't been able to examine, so perhaps another pleasant surprise awaits us all someday. Until we have more information, we'll reserve judgment as to Dibble's possible spanking interest.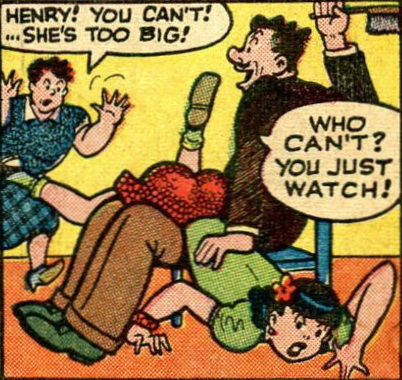 Posted by the Web-Ed on 03/21/2014.
03/21/2014 Update: Back in 2010, the best we could do was scans made from microfiche, but as scans from the original paper are now available we might as well take a look at them. We can see at left there is considerably more clarity in the paper version of the spanking panel. Below we've also added the paper version of the entire page.