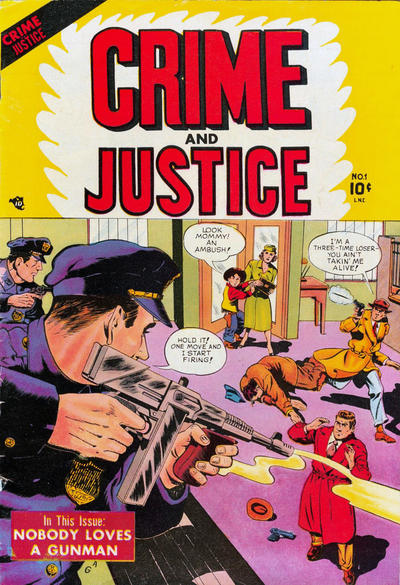 Crime and Justice #1. Cover art by Art Gates. Published by Charlton (as Law and Order Magazines, Inc.) and posted by the Web-Ed on 10/14/2011.
In the early postwar period, superhero comics declined rapidly to be replaced by the Western, Romance, Science-Fiction, Horror, War, and Crime genres. Of these, Romance proved the most fertile ground for spanking scenes and Horror & Sci-Fi the least, with the others somewhere in between. It depends to a great extent on how we define their boundaries - are The Saint #5 and Little Al of the Secret Service #10 crime comics? To Fredric Wertham, everything was a crime comic. He loathed them, and "erotic spanking" in comics as well - what a killjoy! (More about Wertham's anti-comics campaign can be found in Frontier Romances #1). In comparison to old-fashioned Adventure and Superhero fare, the new Crime Comics tended to be somewhat lurid, even gruesome, in their depiction of the activities of the criminal class.
Our view is that The Saint fell more into the Action/Adventure/Superhero category and Little Al was right on the borderline, but our next example, Crime and Justice #1 (March 1951), along with the previous Women Outlaws #2 are most definitely crime comics.