One of many aviator-strips, Johnny Hazard ran from 1944 to 1977. Its most obvious antecedent is Scorchy Smith, on which artist Frank Robbins had worked before starting Johnny Hazard. Also, one of Robbins' predecessors on Scorchy Smith had been Noel Sickles, not exactly a household word today but an artist of great talent who was the primary influence on both Robbins and Milton Caniff (Terry and the Pirates, Steve Canyon). Robbins was pretty gifted himself, having won a scholarship to the Boston Museum of Fine Art at the ripe old age of nine! As good as he was, his style, with its distinctive use of heavy blacks, was not always appreciated, and we remember former Marvel editor-in-chief Jim Shooter stating in an interview that he had received "hate mail" from fans who didn't like Robbins' mid-1970's work on Captain America.
We believe the episode seen here is from Sunday April 19, 1959. Our spankee Katina would probably be a typical spoiled heiress but for the fact that her father is still alive, so we'll call her a spoiled playgirl instead. The OTK positioning isn't bad; still, this spanking probably won't be anyone's favorite because we can't see the spankee's face and Robbins' style (much like those of Sickles and Caniff) isn't particulary sexy. In our view, these three guys are superior by the standard of pure art to the many "good girl" artists, but Matt Baker or Maurice Whitman would be better choices for drawing good, sexy spankings.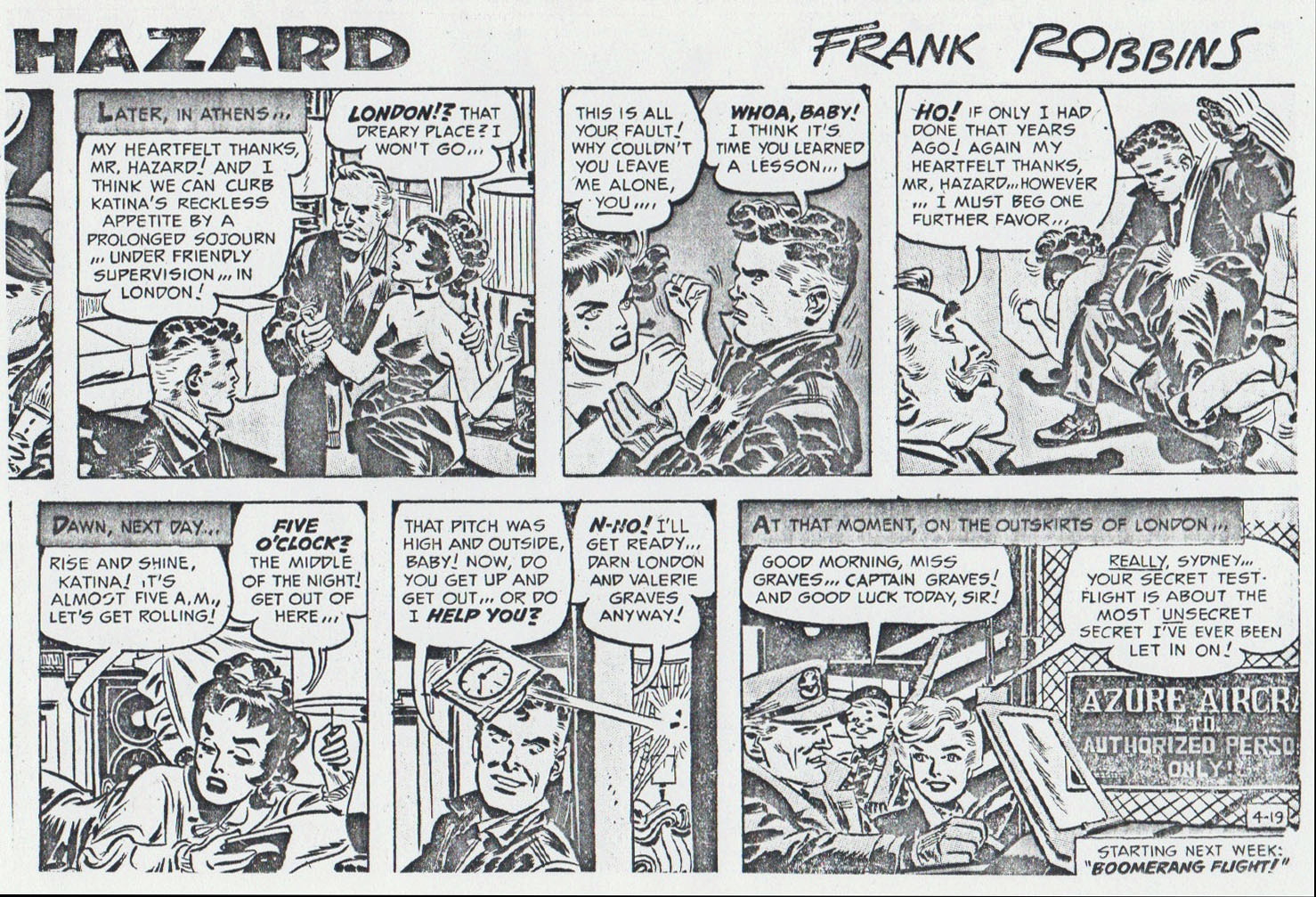 Another spoiled playgirl received her comeuppance, this time in Johnny Hazard (April 19, 1959). From the collection of Dan Rivera (click to increase in size). © King Features Syndicate. Posted by the Web-Ed on 01/20/2012.
We like the reaction of Katina's father: "If only I had done that years ago!" This is the only spanking known at the present time to have come from Johnny Hazard. Obviously, there could have been others given the strip's long run, and we are currently researching the early years of the daily strip.
Thanks to Dan Rivera for posting this one on the CSR Forum.