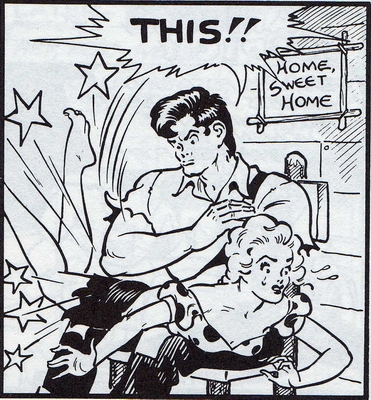 Originally published in 1944, probably during late summer or early fall. From Web-Ed's personal collection. © Capp Enterprises, Inc. Posted by the Web-Ed on 04/22/2011.
This is not the first time this spanking panel from Li'l Abner has appeared in these pages: the first time was in the Humor Gallery where we used it to explain a Dan DeCarlo hill spanking cartoon (the "I know I deserve a spanking, paw" one). In retrospect, we should have used a non-spanking panel to explain who the characters were, since the way we did it there wasn't any thumbnail of the actual Li'l Abner spanking in any of the galleries for anyone who might have been looking for it. We're going to remedy that now by posting the panel a second time, along with two altered versions we found within the past year.
We don't want to repeat what we wrote before, so we'll just observe that this is a well-drawn panel even though the OTK positioning is only fair. Al Capp was a gifted artist and satirist, but he didn't know much about spanking.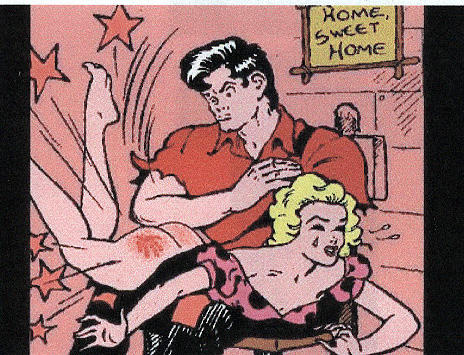 Characters © Capp Enterprises, Inc.
Someone altered the panel by baring Daisy Mae's bottom and changine her expression. We don't know who it was, but it may have been Funbun.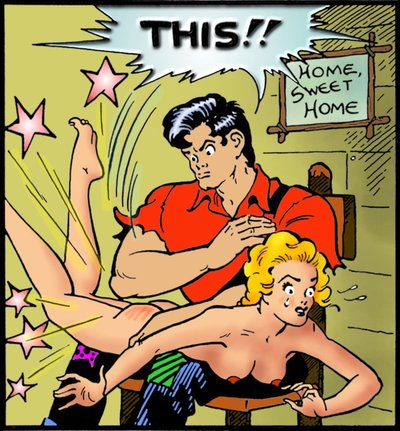 Characters © Capp Enterprises, Inc.
Another hand then went further and removed Daisy Mae's dress completely. Again, we don't know who it was, except that this time we think it wasn't Funbun. Whoever it was then did a nice job of coloring.