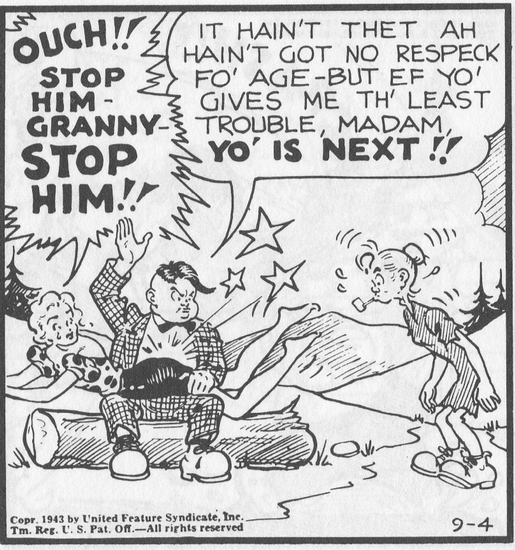 Author's collection. © Capp Enterprises, Inc. Posted by the Web-Ed on 05/28/2010
A while back, we posted one spanking from Li'l Abner while discussing a DeCarlo cartoon that was based on the strip. As we mentioned there, spankings occurred several times during its run. We're not too interested in the F/M or M/M ones, although we'll put them in the Comic Spanking Data Base as we find them, but obviously any M/F spankings deserve some attention. Daisy Mae was spanked twice in 1943, once "offstage" by Abner after she bashed him in the head with a rock to overcome his resistance to marrying her, and the second time here. The date was September 4, 1943, and the spanker is one Ramrod Ramsbottom, the most determined man anyone has ever seen. Believing Abner to be dead, he determines to marry Daisy Mae, and when she declines he turns her over his knee!
This spanking is intended for humorous effect, like all the spankings in Li'l Abner. Al Capp was not into spanking, but we have learned recently that one of his assitants was (see our lengthy detective work here). However, we don't believe he was working for Capp at the time, making the spankings during 1943-44 a (probable) coincidence. We mention once again that spanking was quite acceptable at the time, and really wouldn't have raised any eyebrows. It's a pity that Capp wasn't into spanking, because he could certainly have given us some sizzling scenes if he had been.