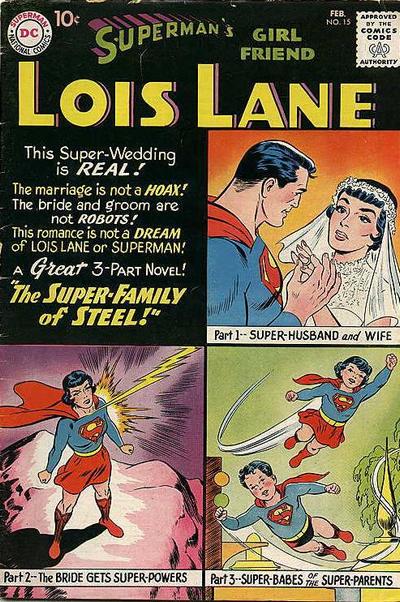 Cover of Lois Lane #15. Art by Kurt Schaffenberger. © DC Comics Inc.
Only a year and half after hurting her hand trying to spank Super-Tot in Lois Lane #3, and only one month after getting spanked herself by a Superman robot in Lois Lane #14, Lois is at it again in Lois Lane #15 (February 1960)! The book-length story "The Super-Family of Steel" was written by Edmond Hamilton(?) and drawn by Kurt Schaffenberger. [Note: DC's records credit the story to Hamilton, but it doesn't seem like Hamilton's style to us, and Martin O'Hearn credits it to Otto Binder, who scripted more super-spankings than any other writer.]
The cover promises that the story isn't a hoax or a dream (it's not an "Imaginary Story" either), and that we're not looking at robots. Strictly speaking, this claim is true: we're looking at Van-Zee of Kandor, who just happens to looks exactly like Superman and to be wearing a Superman costume, and Sylvia, who just happens to look exactly like Lois! Somehow, Mort Weisinger didn't think this preposterous chain of impossibilities was "cheating" the way a dream sequence would be. For our money, he might just as well have conked Lois on the head and called it another dream, and we're going to score this in the Data Base as Lois (with a note that it's supposed to be Sylvia).