This is another panel that's been floating around for awhile, and at first we though it might have come from the interior of Lois Lane #57, but further investigation showed it was much earlier, from Lois Lane #3 (July-August 1958). This time, Superman had to go back to the past to erase some clue to his Clark Kent identity, causing his Super-Tot self to materialize in the present since he can't be in both "time zones" at once. Lois must not have remembered her dream from Showcase #9, because once again she tries to spank a super-tot, and once more ends up hurting her hand!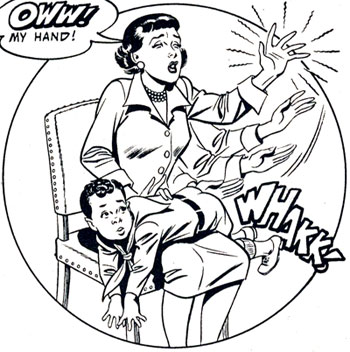 This B & W version is probably a scan from DC's Showcase reprint. © DC Comics Inc.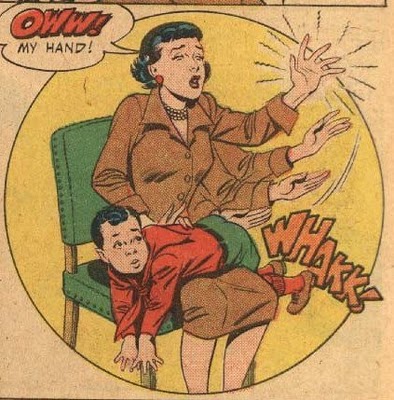 Lois hurts her hand - again. Original version; art by Kurt Schaffenberger. © DC Comics Inc.
Lois deserves no sympathy, since apart from spanking being the wrong way to discipline a child, she's short-tempered and difficult throughout the story. If she wanted to marry Superman so much, you'd think she'd have tried harder to convince him that she'd make a good mother. (Superman has total recall, so he'll remember everything that happened to him as Super-Tot). The art is by Kurt Schaffenberger in one of his first appearances on Lois Lane. Of course he went on to do it for many years, but we noticed that here he's still drawing Lois more in Al Plastino's style than his own. We'd guess this was at editor Mort Weisinger's insistence rather than the result of his own inclinations - Weisinger was notoriously difficult and particular - and it may have taken some time for Schaffenberger to convice him that he could make Lois look pretty enough.
DC's records do not indicate who the writer was. The spanking at once makes us suspect Otto Binder, but Superman co-creator Jerry Siegel also wrote scripts with spankings in them. It doesn't have the feel or the diction of Siegel's work to us - it may have been Jerry Coleman, Robert Bernstein, or even Leo Dorfman. We don't know Coleman's and Bernstein's work well enough to come to a conclusion based on a thematic or linguistic analysis, and to be honest, we're not going to spend any more time on the question the way we would if it were a good M/F spanking. [Update: Bob Hughes credits the story to Coleman.]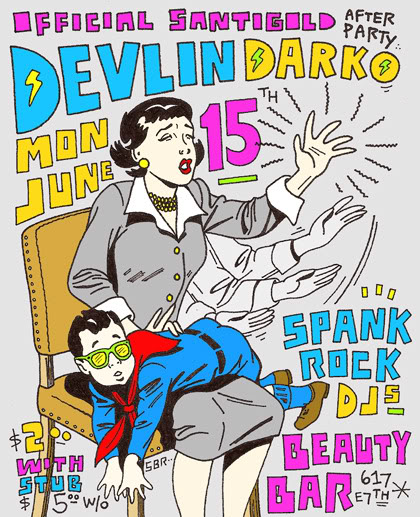 Characters © DC Comics Inc.
We have commented elsewhere on the use of spanking in advertising. The spanking panel from Lois Lane #3 would seem like a very odd building block for an advertising campaign, except perhaps when the product being sold is a party (with DJ) featuring "Spank Rock", whatever that is. We've long since forgotten where we snared this one.