Almost every spanko must be familiar with the movie McLintock! (1963) and its two famous spanking scenes. It's so well-known we've never even bothered posting any stills from it on CSR, although Resident Artist Hugob00m did so on the Spanking in Movies and Television Forum for the film's 50th anniversary in 2013.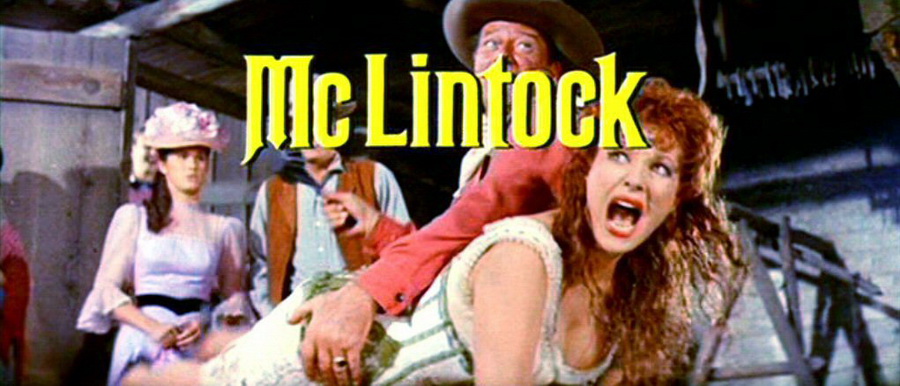 A still frame - we'd say about the most important one - extracted from the trailer of McLintock! by Hugob00m.
Here is part of what b00m had to say about the film:
"A gorgeous redheaded woman, in her undies! ...AND SOAKING WET! is chased all over town by her angry husband, and when he catches her, what's he do? HE GIVES HER A *SPANKING!* WOW!

To this day, Katherine Gilhooley McLintock is my favorite movie character who ever got spanked on screen! I love the way Maureen O'Hara played the part... so bitchy, but still lovable! Lovable enough that we can understand why her husband, G.W. would still want her in spite of all the frustration she's caused him... and bitchy enough to make us believe that the whole town would gather 'round to watch and cheer when her exasperated man finally loses the last shred of his patience... and decides that the only way to deal with her is to paddle her behind!"
The cover of McLintock! (March 1964) Published by Western/Gold Key. Scan by Michael. Click to increase in size.

B00m's summary above should explain everything very young (adult) CSR readers who may never have seen the movie or the spanking scene need to know about it for our present purposes. At the time, we knew there had been a comic book version of the movie but not whether the John Wayne / Maureen O'Hara spanking scene was in it. That changed in 2014 when long-time CSR contributor Michael sent us some scans of what we might call "the critical moments". For some reason, we never got around to posting them last year, so let's remedy that now by taking a look at the comic-book adaptation of McLintock!

It may come as a surprise to some that comic-book adaptations of movies and even TV shows used to be quite common (the only one we can think of nowadays is The Simpsons published by Bongo Comics, which was basically set up for that purpose). Star Wars and Star Trek may have been the most famous and long-running, but we remember TV series such as Dark Shadows and I Spy as well. Most of these were published by Western Publishing under its Gold Key imprint, and that included McLintock! in 1964. The spanking scene is so much a part of the plot that there's no real way they could have left it out, and they didn't! Let's pick up the story just before the spanking:

This part follows the movie pretty closely: after a long chase through town, Katherine finally gets what's been coming to her for a long, long, time! "Whee! Lookit her squrim!" Squirming is usually a sign the spanking is having its desired effect.

As so often happens, getting spanked by her man makes a woman want to be with him all the more.

Our contented couple heads for home - another happy ending brought about by a good spanking! And spanking is mentioned in panels three and four: Katy says he won't need any more frying pans, but we wouldn't be too sure about that. High-spirited women do benefit from occasional taming, and G. W. says that things are going to be "a spanking lot different" - we certainly hope so!

We note that a frying pan takes the place of a coal shovel as a spanking implement (both very strange choices), and that the other spanking scene from the movie (Patrick Wayne/Stephanie Powers) is not shown in the comic.

Thanks to Michael for making these scans available to all of us!

No credits have ever been assigned for this comic as far as we know, and they will probably always remain uncertain. However, we can hazard a guess about the art: the pencilling looks a lot like Mike Sekowsky, who at this time had a very loose style without any real attempt at anatomical precision. He had worked on the comic-book version of Gunsmoke so he knew Westerns (besides having worked on them back in his Marvel days in the 50's), and is credited with doing Twilight Zone for Gold Key the year before McLintock, so everything would seem to fit. Sekowsky (if it is indeed he) always got the job done, but the loose style we referred to was never very erotic, and we never do get a very clear view of the target area in this spanking scene. Because this is a comeuppance spanking, the expression on Katherine's face does make up somewhat for his having made no attempt to reproduce Maureen O'Hara's beauty or to charge the spanking with somewhat more eroticism. The fact that the spanking extends over three panels is another plus.

The spanking panel, or at least the preparation for it with Katherine in the OTK position. Posted by the Web-Ed on 01/27/2017.

A frying pan serving as an improvised paddle is applied firmly to Mrs. McLintock's buttocks with the desired effect. Eyes closed and mouth open (Yeowww!) means she really feels it - yes!