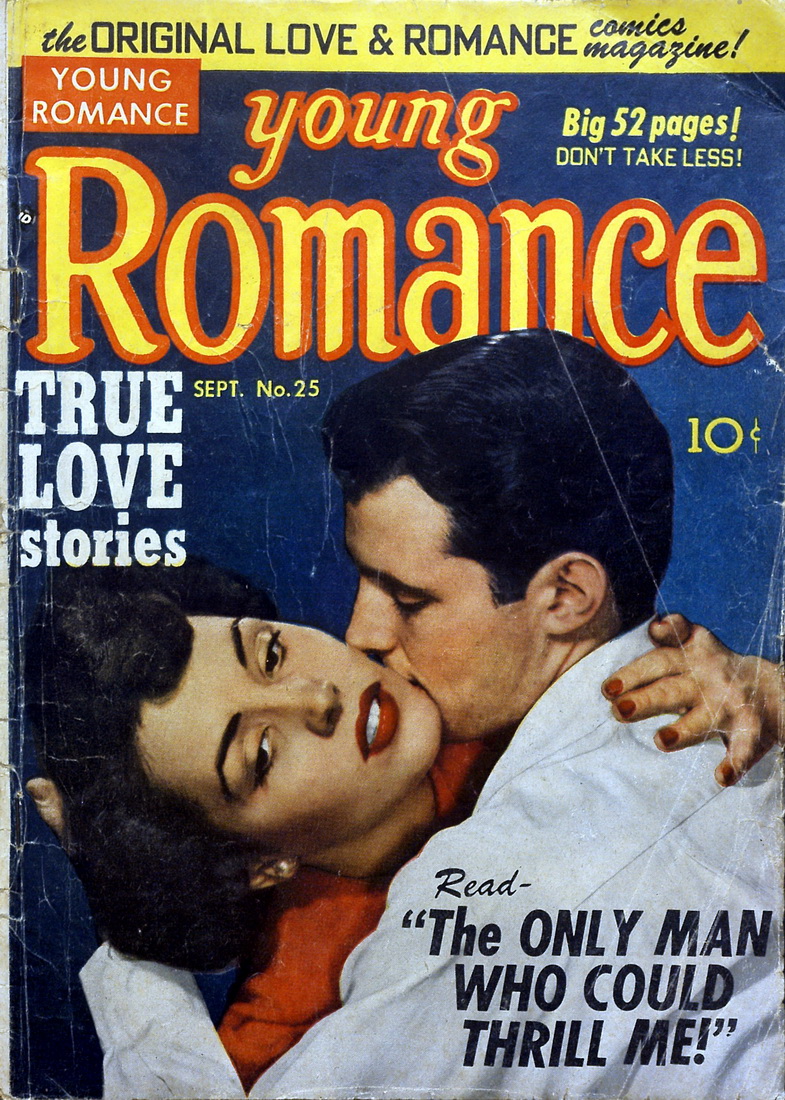 Young Romance #25 (September 1950, volume 4 #1). No cover artist since a photograph was used. Published by Crestwood/Prize (click to double-size).
We have mentioned in the past that Young Romance is usually considered the title that started the entire comics romance genre back in 1947, and we have previously seen two spankings from this title in issues 39 and 70 (we've presented them out of numeric order because, of course, that's the order we found them in). This one, from issue #25 in September of 1950, is the earliest of the three and it comes not from one of the regular stories (there were usually four in 52-page romance titles) but from a special feature called "Nancy Hale's Problem Clinic".
Romance comics being of course geared toward adolescent and pre-adolescent girls who were unsure about boys and dating, it was not unusual to have an advice column or something similar in each issue. Often it was as simple as readers writing in to ask advice from an in-house columnist. Whether this person was always what she seemed to be throughout the long history of romance comics we may well doubt, and we have often wondered if it might have been Stan Lee or Flo Steinberg who performed this function at Timely/Atlas/Marvel, but at this time (1950) criticism of the effects of comics on children was on the rise and most publishers actually did hire consultants, usually psychologists, to function in an advisory capacity and allay parents' concerns. It is our belief that Nancy Hale was such a consultant, and at this time, the advice column took the form of a two-page narrative presumably based on an actual letter sent to her.
Since this story is only two pages, we'll see it in its entirety.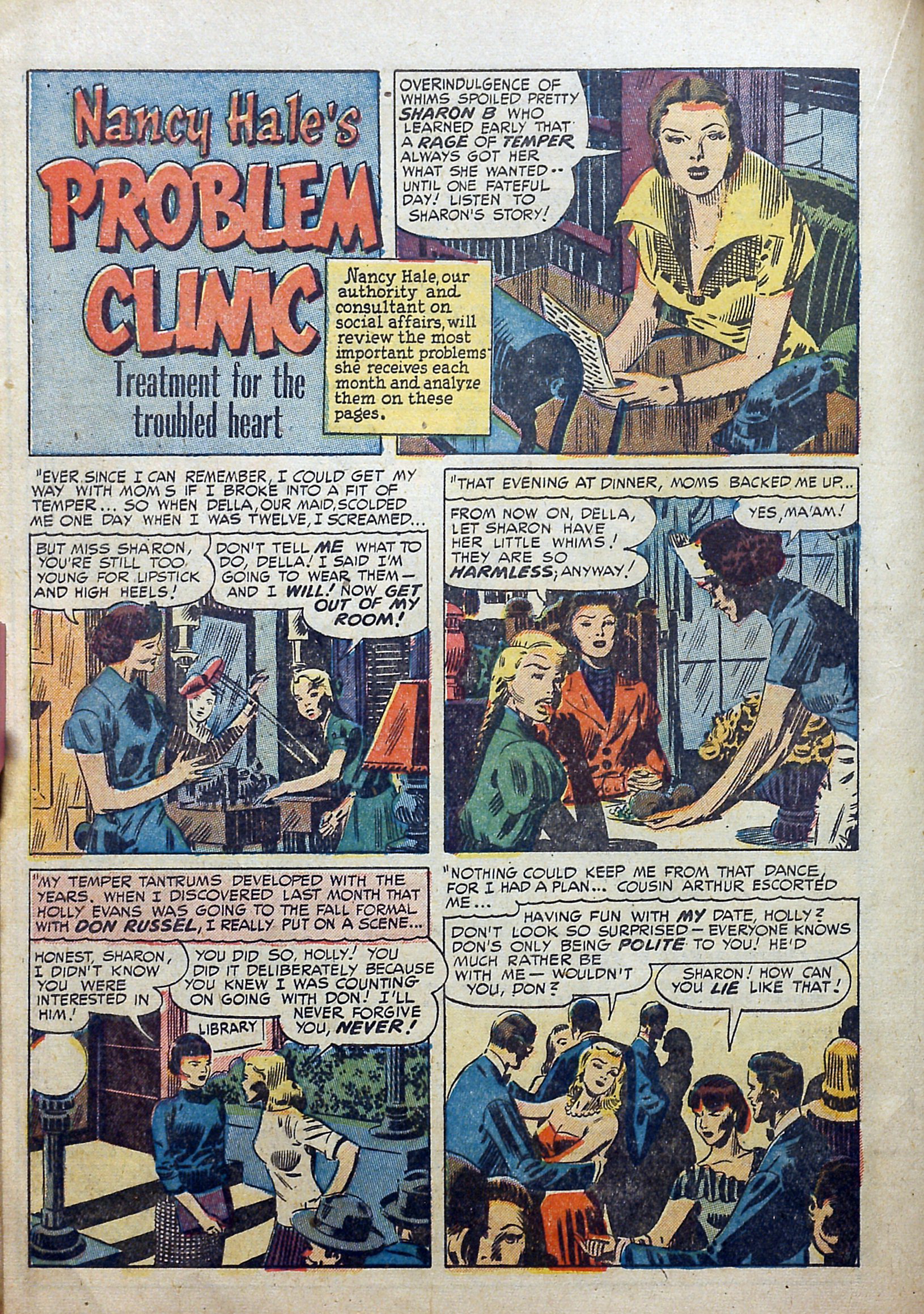 Nancy Hale's Problem Clinic Page 1: The word "brat" isn't used to describe our spankee-to-be, Sharon B., but it sure should have been - we see that she's spoiled and indulged growing up. Then one day she goes too far at a dance where she is rude to her rival for the affections of Don Russel, Holly Evans. Both her cousin Arthur and Don are mortified by her bad behavior.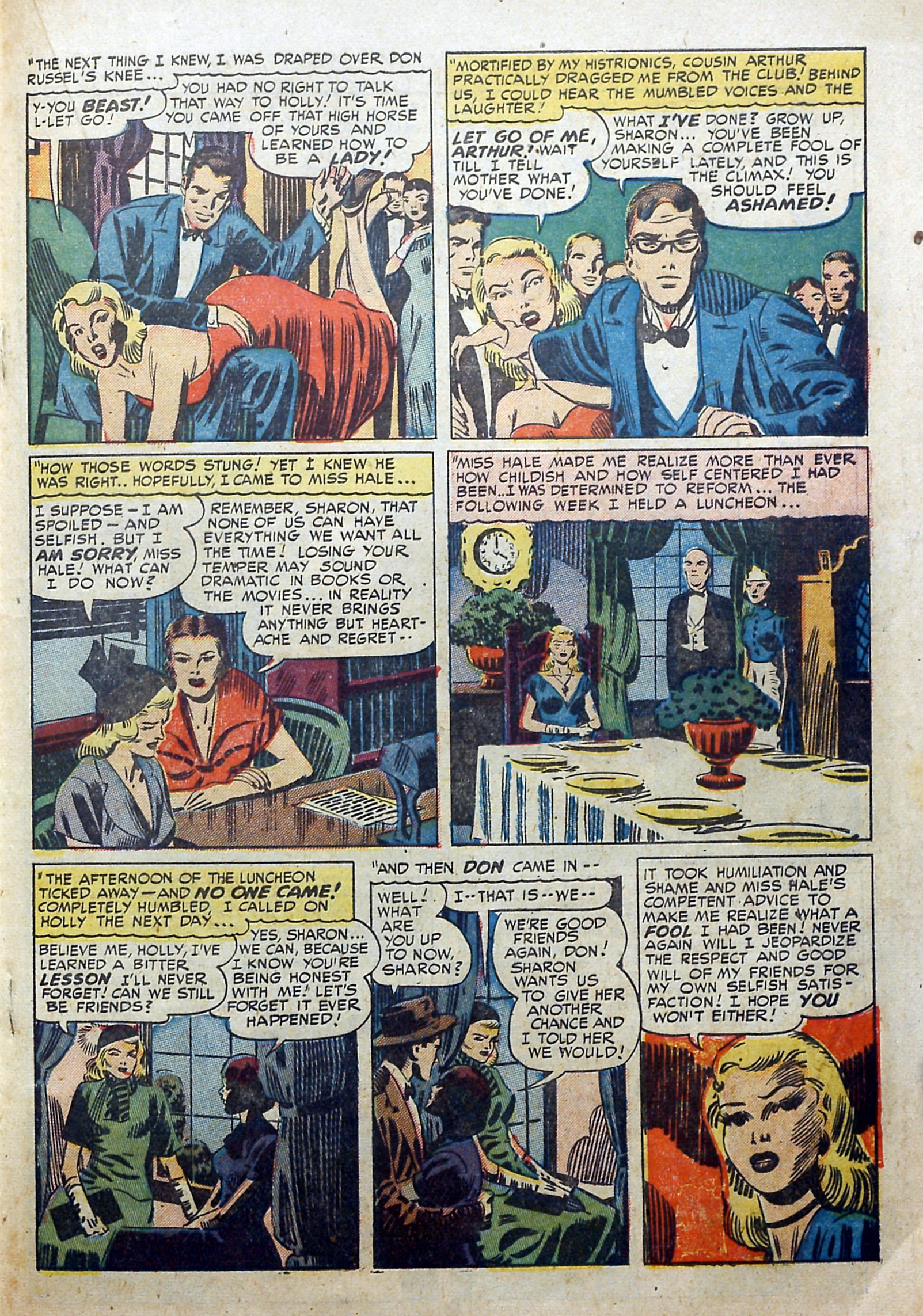 As far as we're concerned, either man had good cause to spank her, but Don is quicker and puts Sharon over his knee right on the dance floor! Good man, Don!
The spanking makes Sharon take a good look at herself. After she throws a luncheon and nobody comes, she's ready to turn over a new leaf. If we'd been scripting this story, we'd have worked in a second spanking, this time from cousin Arthur just to drive the lesson home! Sharon reforms and reconciles with Holly.
"It took humiliation and shame and Miss Hale's competent advice to make me realize what a fool I had been!" muses Sharon. And what intensified that humiliation and shame, Sharon? That's right - the good hard spanking you got from Don! Once again, nothing works quite as well as a spanking to teach a spoiled brat a good lesson! We hope this all really happened, and that Sharon B. really did get spanked.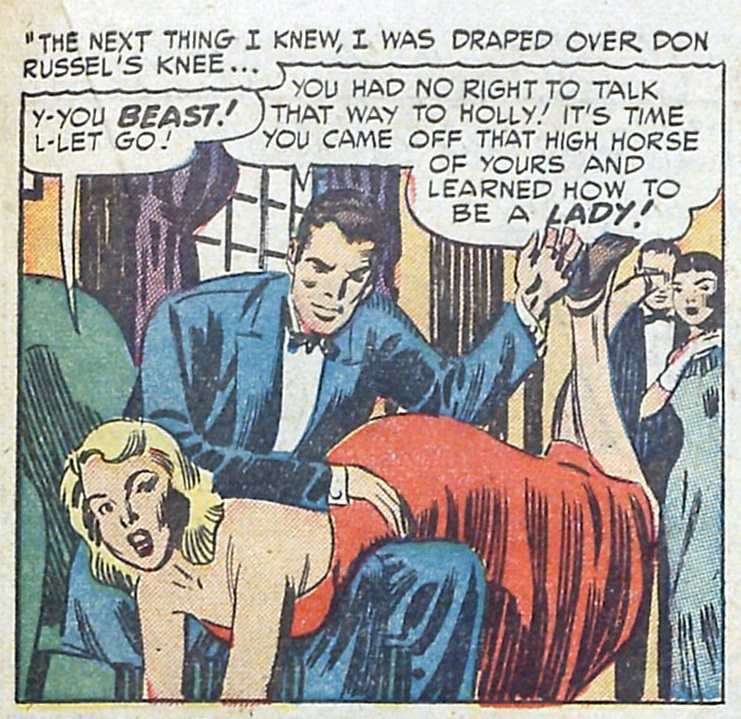 The spanking panel (click to double-size). Art by Mort Meskin.
O.K., now let's examine the spanking panel up close. The OTK positioning is pretty good, but the artist used no lines at all down the back of Sharon's dress, leaving her buttocks not as well defined as they should have been for maximum effect. No pain stars either, so the only thing we've really got going for us here is the OTK position. Don's left arm looks a bit long since his fingers reach past his knee when his arm isn't even extended, but in truth we care less about Don's arm than we do about Sharon's behind! Some after-the-spanking rubbing or complaining about the sting would have been nice.
The art is by Mort Meskin, who did a lot of work for DC and Standard as well as Crestwood/Prize. This is the first spanking scene to be attributed to him.
This is the third spanking scene from Young Romance, so the question naturally arises - were there any more? We have now examined the first 102 issues, leaving 22 more from what we'll call its first phase when it was published by Crestwood/Prize/Feature/Unknown (all of whom may really have been the same company). But the story doesn't end there: DC picked up the title and it ran for another twelve years (until 1975), giving it an almost 30-year run all together! We don't have scans of any of the DC issues, probably because they're still under copyright, but obviously they're on our list to search.