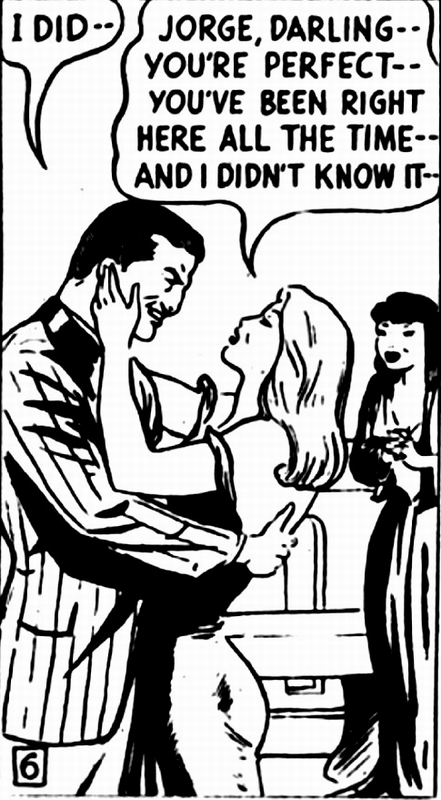 Pera is pleased that Jorge has mastered her (03/17/1946). Even her lady-in-waiting (background) looks happy! © King Features Syndicate.
The new scans enable us to more fully appreciate the romantic aspects of this episode. Queen Pera is something of a spoiled brat who needed to be taught a lesson (spanking #1, by The Phantom), but more than that, she's a woman who needs a strong man to dominate her (spanking #2, by Jorge). Falk does not suggest that she and Count Jorge are spankos, but he does imply that human sexuality is shaped by dominant and submissive desires. This is an insight I'm not sure is shared by his great contemporary Zack Mosley, whose Smilin' Jack is certainly masculine enough, although Roy Crane does seem to grasp this idea, perhaps in a more rudimentary form than Falk.
Shakespeare had King Henry IV observe that
"Uneasy lies the head that wears a crown."
It isn't generally wise to rewrite Will, but we'll take a chance here and render the line in Queen Pera's case after she's been spanked twice as
"Uneasy on her throne when she sits down!"