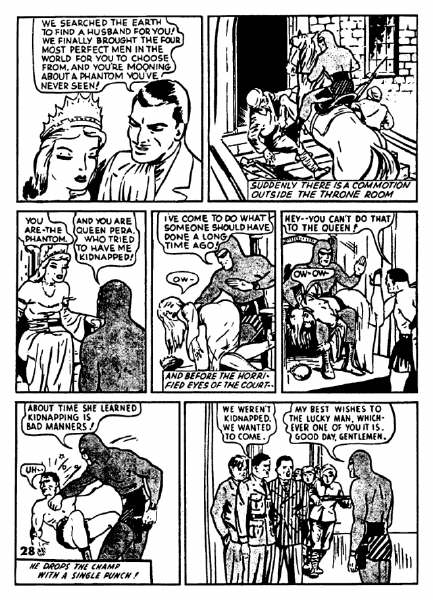 © King Features Syndicate. Moved by the Web-Ed on 04/29/2011.
As part of "Focus on The Phantom" week (04/29/2011), we moved this spanking over here from Comics Gallery 1 where it had been combined with two other scenes. Our thinking is that separate and distinct spankings generally deserve separate pages. The strip excerpt we see at left has not been changed, but our accompanying remarks have been extensively revised, and we have also added some new scans below.
Though he used his right hand when spanking that bad girl in Algiers, this time the Phantom switches hands, spanking Queen Pera left-handed. We get two nice spanking panels here, first as Pera is positioned in the center affording us a fine view of her raised rear end, second with a more usual side view.
This sequence is noticeably similar to Evad spanking Queen Arda in the Superman color strip but probably appeared some months earlier. They have a common theme - the high-born, haughty, and arrogant female, represented by a Queen who needs to receive her comeuppance. And since the essence of spanking is humiliation, there's no better way to accomplish this than by turning her OTK. Lee Falk, who created and wrote The Phantom, understood that and excelled at this kind of scene, giving us at least five involving this character (seven if you count two that take place off-panel) and two in Mandrake the Magician.