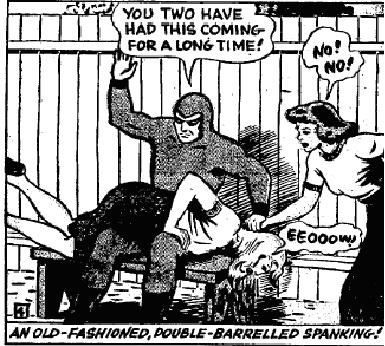 © King Features Syndicate, exact date unknown but definitely from 1948. Posted by the Web-Ed on 11/26/2010.
Last time we saw The Phantom administer a double-spanking, and he does the same here, which is a pretty remarkable achievement - we don't know of another superhero who has equaled this feat.
This is a good scene, with the first girl crying out "Eeooow!" and the second, knowing that she's going to be next, vainly protesting "No, no!" Yes, yes - she's going to get spanked too!
Thanks to Tanner, we can identify the spankees here as the Marshall sisters, which makes this probably another record for the Phantom. Spanking two sisters is a pretty rare (and cool) accomplishment. Unfortunately, we have not been able to locate the succeeding panels, in which the girls are riding in a convertible. The sister driving asks the other where they should go. The sister in the passenger seat, who is standing up leaning on the door answers, "anyplace, quickly, where we don't have to sit down!" If we do find those panels, we'll add them here.
04/29/2011 Update: with help from Mike and Mattias, we found one of those panels, plus some of the preceding ones that show why the girls deserved their spankings - see below.