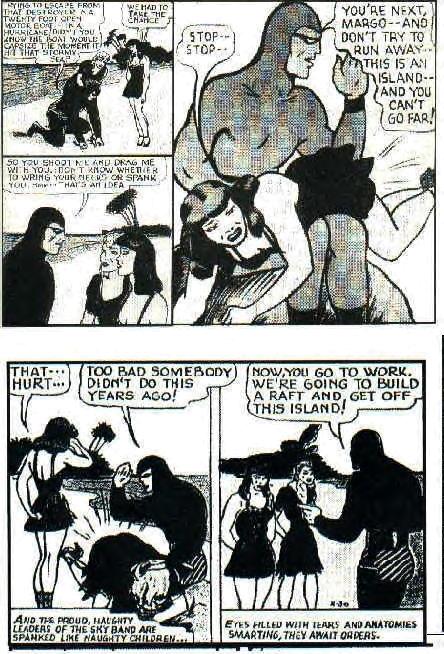 © King Features Syndicate. From the November 30, 1941 Sunday strip. Posted by the Web-Ed on 11/26/2010.
Lee Falk's Phantom (a/k/a "The Ghost Who Walks") may just have been the best of all superhero spankers. He not only knows how to give a quality spanking, he gives them in quantity! (See Phantom Spanks Girl Explorer for a complete index detailing all known Phantom spankings, and the Phantom Spanking Question topic on the Comic Book Spanking Forum. Now let's take a look at one of these, a famous double-spanking he once gave to two bad girls on an island.
We don't know the complete storyline, but from the Phantom's description of events, the two girls tried to escape from a destroyer in a small boat which capsized in a storm. "I don't know whether to wring your necks or spank you. Hmmm - that's an idea!"
It's a great idea, as a matter of fact, and he proceeds to carry it out: "And the proud, haughty leaders of the sky band are spanked like naughty children..." Most of Falk's spanking scenes follow this pattern, with the wrongfully-proud, the arrogant, and the haughty getting humbled by this most effective of methods - see, in addition to the other Phantom episodes mentioned above, Mandrake Spanking #1 and Mandrake Spanking #2. That's what makes these spankings so great - notice that they're far more erotic than the pure punishment spanking (Spirit spanks Huntress, Firebrand spanks Helga, The Saint #5), where the women are actually evil.
Falk handles the aftermath well also, with the first spankee admitting, "That hurt" as she rubs away - in fact, both girls are rubbing at the end, as a caption informs us that "Eyes filled with tears and anatomies smarting, they await orders" - well done!