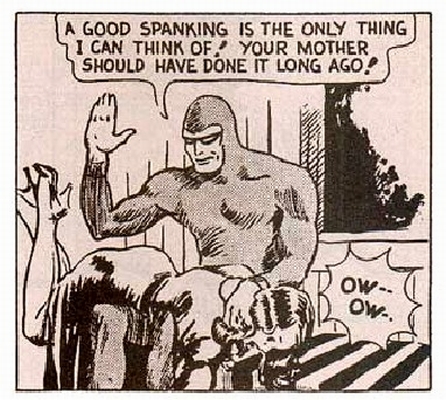 Originally appeared c. July 2, 1938. © King Features Syndicate.
The Phantom was the first costumed hero, appearing in 1936 before Superman, Batman, and all the rest. We believe he was also the first costumed hero to administer a spanking, and although he was to give many more, we think this is the first chronologically, dating from his daily strip in July 1938. We see the Phantom telling some bad girl, "A good spanking is the only thing I can think of! Your mother should have done it long ago!" Much as we like this spanking, we can't manage to view the Phantom as a mother figure, and we don't think he saw himself that way either. What it means is that this spanking was purely disciplinary without romantic overtones, as was typical of the Phantom and of his creator Lee Falk, as we will see later in other scenes with Phantom and Mandrake.
04/29/2011 Update: When we first posted this panel during CSR's early days, we had no further information. Recently, we found scans of the complete episode so we rewrote the description, adding the date, and we can also place this spanking in context (see below).