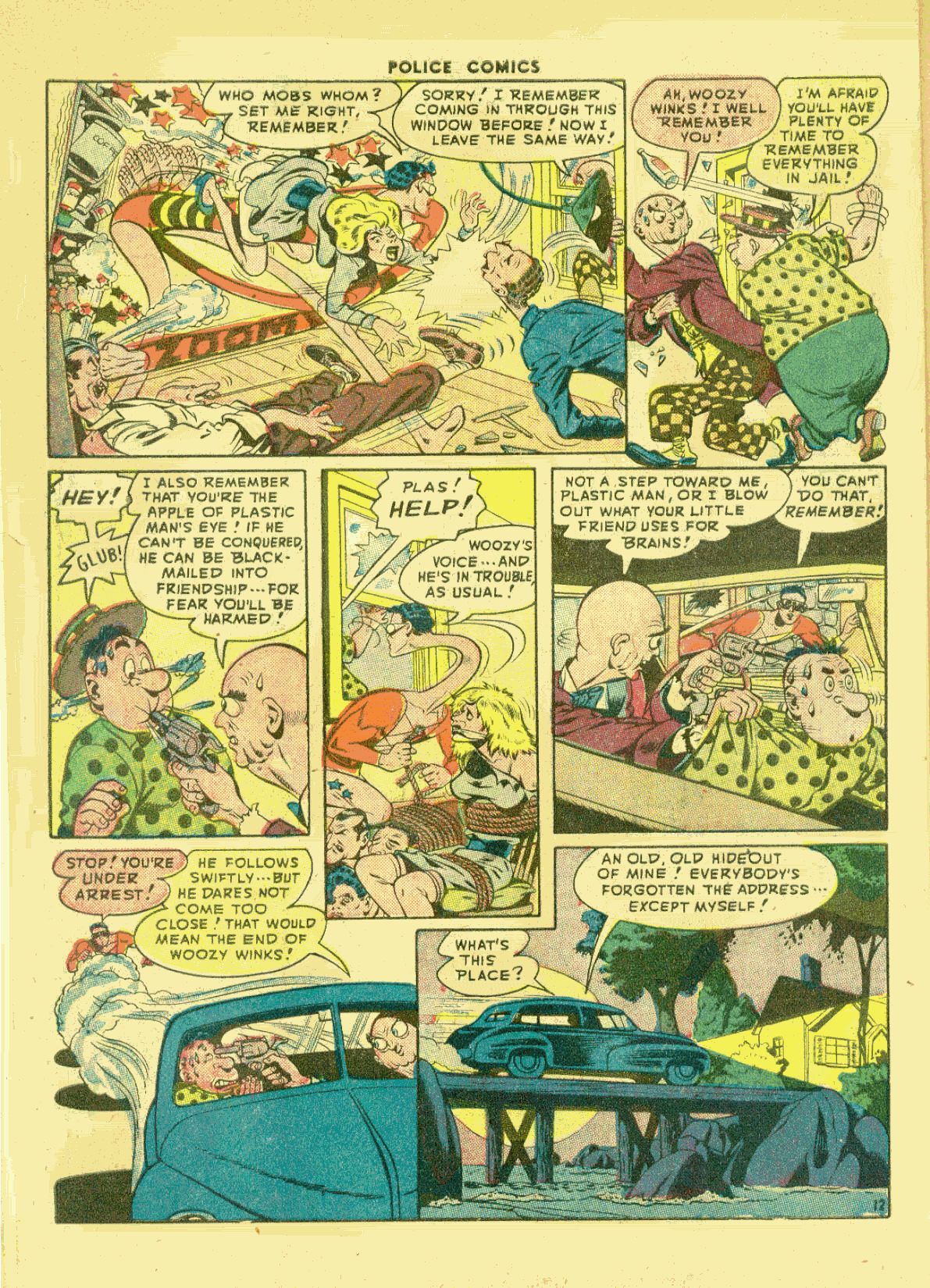 Art by Jack Cole. From Police Comics #73 (December 1947), published by Quality Comics. (Click to double-size).
For once, we'll begin with a question: can you spot the spanking in the page at left in two seconds or less? That was the task that faced us as we conducted the Great Golden Age Search, during which we examined 1000 pages per day for something like 300 consecutive days! We must admit this one escaped our otherwise eagle eye (for spankings), but if you try it yourself (without increasing the page size) you'll soon see why. Fortunately Johnny Ola spotted this one and brought it to our attention, as we bring it to yours now, so a big thanks to him.
This is an example of what we have called the "melee spanking" in which the spanking takes place as part of a general brawl (see e.g. the scene with Bob and Swab cleaning up a bar in which Swab spanks a bargirl). The melee spanking arose out of the requirement that a gentleman not strike a lady with his fist - but he can do something much better by turning her OTK! Plastic Man can initiate a brawl all by himself, because he's the most flexible of all super-heroes, and he does so here in the line of duty with a criminal gang. Notice that he's punching out two male gang members, including one on his right, with his left hand while spanking the bad girl with his right!
Let's take a look at four critical panels below: (1) We meet our spankee-to-be; (2) Plas enters the hideout and she tries to pull his hair; (3) the spanking panel; (4) Plas ties up the defeated gang, thoughtfully placing a pillow underneath the bad girl's bottom!