<!- IMAGE ->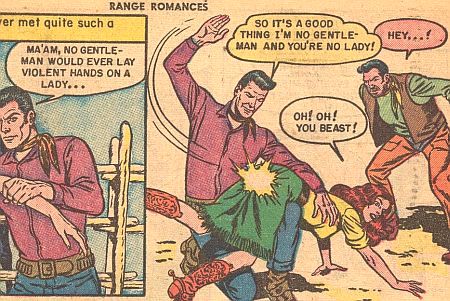 Artwork thought to be by Reed Crandall (good OTK positioning); added 05/10/2008. Published by Quality Comics.
We have mentioned elsewhere that the superhero genre in comic books lost its dominance in the postwar period, to be replaced by others such as Western, Crime, and Romance. Naturally, there were some efforts by comic book publishers to increase sales by combining two genres into one. Here we see an example from Quality Comics, Range Romances #2 (February 1950), which combined Western and Romance. There were several spanking scenes in Western/Romance comics of the period, perhaps because it seemed natural for the presumably tough and self-reliant ranch hand or trail boss to take a mule-stubborn female over his knee without a lot of preliminary debate or discussion. It will be noted that this kind of scene was also visible in the early television series that were produced a few years later, such as the famous 1959 episode of Wagon Train where Robert Horton spanks Susan Oliver (see Spanking Facts and Research ).

We think we saw this one on Vintage Spanking . While we don't know exactly what led up to this spanking, we're willing to assume the young lady did something to deserve it [see below for an update]. Her cries of "Oh! Oh! You beast!" aren't very convincing - it sounds like the kind of protest many women make when trying to cover up their gratitude at finally receiving the punishment they deserved and secretly wished to experience. The bozo standing on the right, positioned as though he still had a horse between his legs, sure isn't doing her much good - all he can think of to say is "Hey...!". We say, "Hey Hey, A-O.K.!"