<!- IMAGE ->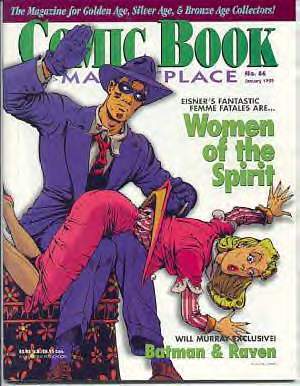 [First posted April 2004; extensively revised April 2010]
The Spirit, a comic character of great historical importance, spanks Ellen Dolan, whose modest sins here were fibbing and conniving to lure the Spirit to her college campus under false pretenses. This panel, a reproduction taken from a recent magazine, was originally the cover of the Spirit's comic from December 1, 1940, which appeared in the Sunday comics section of many newspapers of that era. (It's hard for modern readers to appreciate how much bigger and better Sunday newspaper comics used to be). Will Eisner, whose contribution to the comics medium is legendary, came up with the spanking to show how a comic-book hero could become enmeshed in a dull, everyday muddle. Probably he considered this a humorous contrast to the constant string of heroic deeds that seemed to fill the days of comics' other leading men of the period. Eisner, who was not into the scene, was nonetheless very fond of this spanking panel and had the original hanging in his studio for many years.
This has to be one of the two or three most famous comic-book spankings of all time, having been reproduced on many occasions and even inspiring this pastiche by Twigg and Dr. Cylon. It is the sixth of what we've recently (April 2010) decided to call "The Seven Spankings" - those comic-book spankings that were known to us as far back as the late 1970's.
Having seen one of the more recent reproductions, let's go back and take a look at the original cover, together with some other reprints and the spanking as it was shown in the inside.