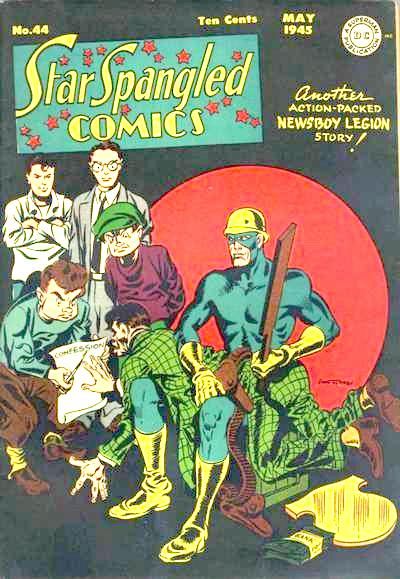 The Guardian paddles a suspect until he signs a confession on the cover of Star Spangled Comics #44. We're not sure the Supreme Court would approve of this investigative technique, and we certainly don't unless the criminal is female. Art by Arturo Cazeneuve. Posted by the Web-Ed on 01/17/2014.
Many years ago, the "third degree" was sometimes used by police to pressure suspects to confess. (Thanks to advances in the way we expect law enforcement to behave, these methods are all but gone today and unless you're at least middle-aged, you probably have never even heard the term). It generally referred to the infliction of pain on a suspect to induce him to confess, and on the cover of Star Spangled Comics #44 (May 1945) we see something that might qualify: The Guardian is applying a wooden paddle to a suspect (perhaps he's an enemy spy) to get him to sign a confession. An ugly technique to be sure, and we're not referring to the fact that the courts would probably not approve of this method. Few things are uglier than M/M paddling, which was horrifyingly common in Golden Age comics, but to see a scene like this on the cover of a comic book is truly remarkable.
In his civilian guise of policeman Jim Harper, The Guardian is in fact the legal guardian of the four boys seen here, collectively known as The Newsboy Legion.