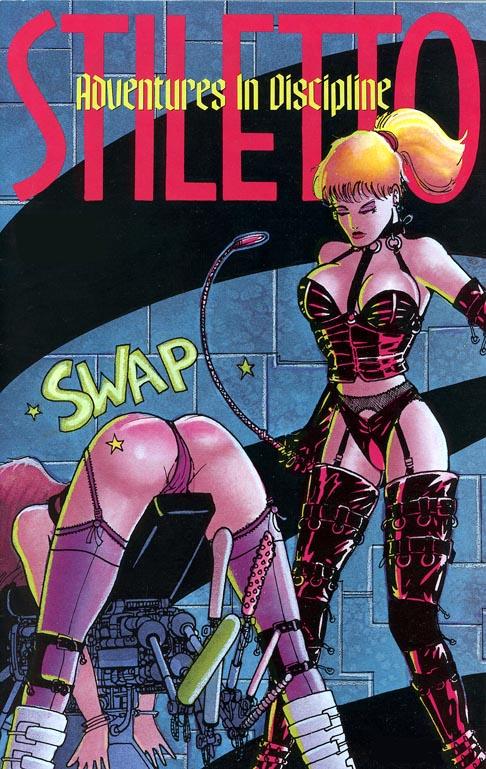 Stiletto: Adventures in Discipline (no issue number, April 1993). Art by Justine Blanco. © Eros Comix. Posted by the Web-Ed on 05/25/2012 (click to increase in size).
We very nearly didn't post this one, which we remember seeing when it came out almost twenty years ago. It's F/F, which we're tired of just now, and we could do without all those dildos, which exemplify the big problem with the broader BDSM world from the spanko's perspective: too much of all kinds of weird activities mixed in with the spanking. (Yes, we know - some BDSM players probably consider spanking weird. That's why we said "from the spanko's perspective.) But then we reminded ourselved not to be so choosy: here we have a cropping on the front cover of an actual comic book, with lovely bending-over positioning, and which helped (in 1993) bring an end to the spanking dead-zone that the 1980's still appear to be.
Two of the more interesting features are that rather unconventional spanking horse and the way the spankee's legs are strapped to it. With straps above and below each knee, the knees cannot be bent, which is the worst sin committed in the bending-over positionings; while the downward-sloping support directs the upper body to a horizontal support that keeps the head and shoulders relatively high - just what we want to cause the bottom to be stuck out! Nice positioning for paddle or cane as well as the crop that's being used. We've been trying to settle on a design for a spanking horse for some time - maybe a variation on this one is the answer.
We don't have too much of an idea as to what the plot is. Kudos to Justine Blanco for drawing this and to Eros for publishing it.