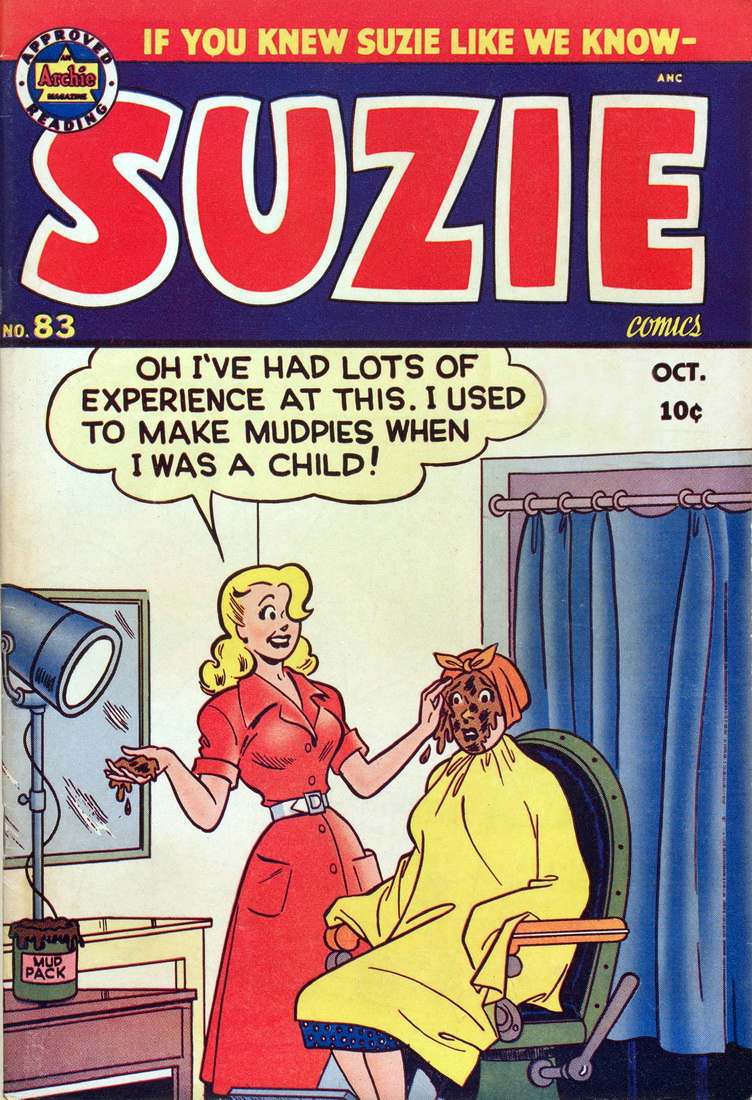 Suzie #83 (October 1951). Art by Sam Schwartz, who sometimes signed his work "Samm" and who did both the story and art for "Professor Doodle's Doodles". Published by Archie Publications (click to double-size).
Who doesn't like the idea of Suzie getting spanked? Although quite beautiful and probably inspired by Torchy, Suzie toned down the glamor-girl aspect of Bill Ward's famous creation in favor of girl-next-door adventures as she went from job to job (much like Torchy) and tried to deal with her two boyfriends, the nebbish-like Ferdie (note that in light of Archie's tremendous success, two-syllable names for teen characters became the rule at Archie and elsewhere - Ferdie also has red hair like Archie) and the snobbish Gregory Van Dripp. Suzie was apparently spanked by several of her employers and once made the mistake of enlisting the help of both boys in painting her house, which resulted in an off-panel spanking by her father (see Suzie After Spanking).
As it happens, she got spanked by her father on another occasion, this time fortunately on-panel, and it's this spanking we're going to see now. It was co-discovered by long-time CSR contributor Bishop Berkley and ourselves (that is, we both found it as soon as a digital scan of Suzie #83 became available). (One other Suzie-spanking is known, from PEP Comics #59, in which Suzie is employed as the governess of a wealthy boy who spanks her). This story, "Professor Doodle's Doodles," is six pages long, but we'll see it in its entirety anyway, reserving our comments until the end. The story and art are by Sam Schwartz (scans by Soothsayr; edits by Kracalactaka; color-balancing by Web-Ed).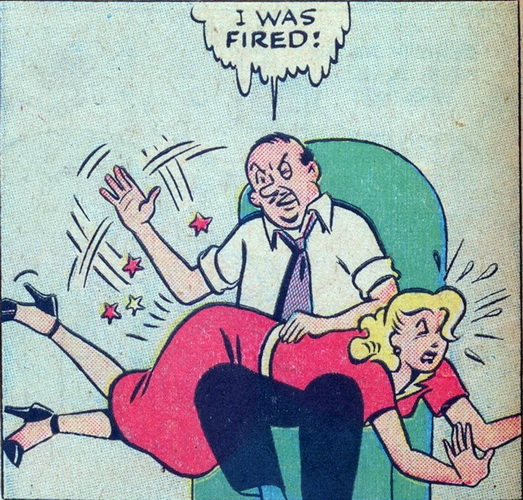 Suzie gets a well-deserved spanking after her nutty friend Professor Doodle's antics cause her father to lose his job. Art by Sam Schwartz. (Posted by the Web-Ed on 09/09/2016).
O.K., now let's examine the spanking panel up close. The OTK positioning is pretty good although Suzie should be just a little further forward. A bigger problem is that her hips seem to be rotated to her left (that is, toward her father) depriving us of a side view of her buttocks. Possibly Schwartz did this to avoid having to deal with the perspective problem. To see what we mean, compare this scene to the very similar Spirit/Ellen spanking below in which Will Eisner manages it easily: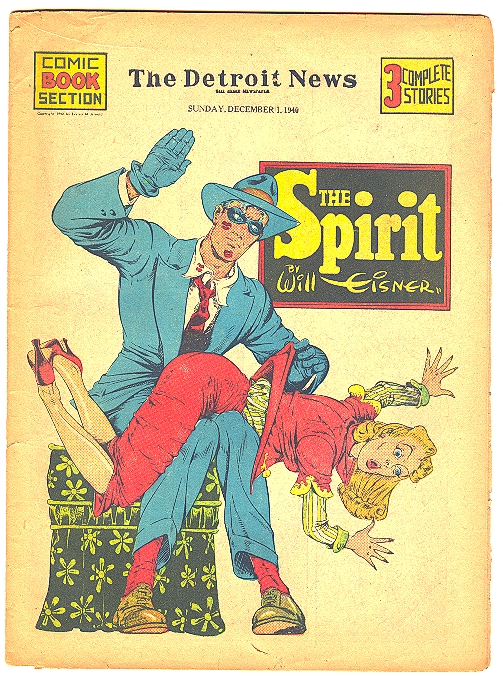 Another problem is that Suzie's bosom seems hidden somehow. But overall, the pluses outweigh the minuses: Good expresssions, especially Suzie's, and we can see from her open mouth, closed eyes, and the many "pain stars" that she's really feeling the heat! There's certainly no better way to end a comic-book story than with a beautiful girl getting a good OTK spanking!