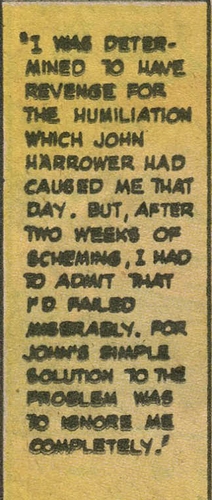 Post-spanking caption. Linda admits to her humiliation, but unfortunately doesn't mention having a sore bottom.
Although Linda doesn't immediately fall into John's arms after the spanking, somewhat implausibly the two are happily united by the story's end.
A fashion note: Although the bikini had been invented by the time this story appeared, Linda's suit is of the two-piece design that preceded it. A very similar suit may be found in Frontier Romances #1, which also appeared in 1949 - a good year for swimsuit spanking!
There are no scans of the spanking panel from Teen-Age Romances #3 currently available, but it must have looked substantially the same as the one seen here except perhaps for some coloring differences. Strangely enough, according to Ripley TAR #3 is actually not as hard to find in grades above VG (very good) as DS #11, with both books being regarded as scarce in any high grade, which probably explains why our own search came up empty.