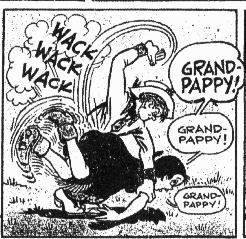 © Chicago Tribune Syndicate.
The spanking itself is well-motivated; the spankee has been shooting at Texas, having been told by her grandfather that fellows are no good. The OTK positioning is done pretty well although we can't see what if anything Texas is sitting on, and he applies the spanks with vigor. Afterwards, she tells her grandfather that fellows aren't so bad after all, because "they don't spank half as hard as yo' does!"
Perhaps the most unusual thing about this spanking is that Texas doesn't say anything before, during, or afterward - we have to wonder if the spankee understood that he was trying to teach her not to shoot at him any more.