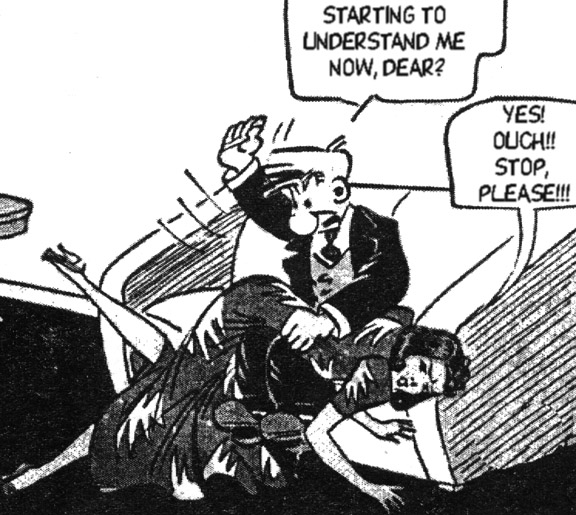 Date of publication unknown. © King Features Syndicate. Posted by the Web-Ed on 03/11/2011.
The 1920's was a decade of rapid change and progress in American society. Increasing industrialization led to greater prosperity and opportunity for many, including women. While men were still expected to be the primary breadwinners, unmarried women could and did establish independent careers, and this was reflected in comic strips like Winnie Winkle (which we'll examine next week) and Tillie the Toiler, which we see here.
We don't know exactly when this first appeared, but we think the spanker is Tillie's co-worker and admirer Clarence "Mac" McDougall. Why is he spanking her? We can only guess it has something to do with Tillie's tendency to date numerous men, another by-product of women's increasing freedom, which when taken to extremes led to the wild "flapper" who certainly needed to be brought under control by spanking (see also Red Hot Spanking Stories for more on flapper-spanking). If so, this spanking is fully justified since Mac is quite devoted to Tillie (they finally married in the very last Sunday installment of the strip in 1959).
One other note: Stan Lee must have had Tillie in the back of his mind in the 1940's when he named such Marvel titles as Millie the Model and Nellie the Nurse.