<!- IMAGE ->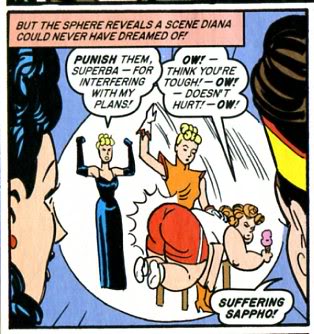 Art by Rick Burchett. © DC Comics Inc. Posted by the Web-Ed 03/05/2010. Found at The Hooded Utilitarian.
More of Etta Candy getting spanked, but this one is a little different than the others. Taken from "The Exile of Wonder Woman" in Wonder Woman #200 (2004), this is clearly a homage to the Golden Age WW of Charles Moulton and Harry Peter. Rob Rodi (writer) and Rick Burchett (artist) attempted to re-create the feel of the early tales, which naturally meant there had to be a spanking! Of course, we would much rather have seen WW over Superba's knee than Etta, but what the heck - it's a real Wonder Woman spanking, and from 2004 yet, so we're not going to complain.
Perhaps the best thing about this is that it shows even "vanillas" associate Wonder Woman with spanking, although it's also welcome news that DC is still featuring spankings in the first decade of the new millenium.