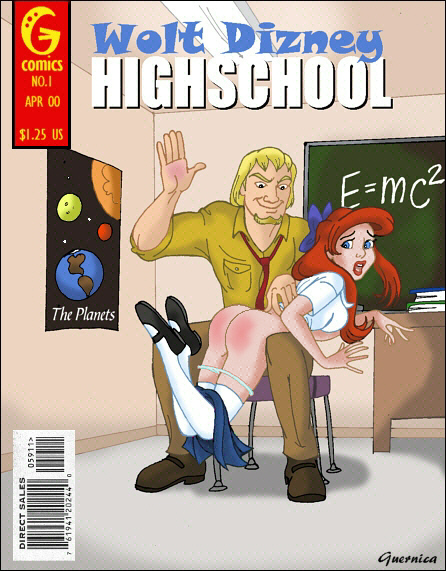 Original art by Guernica; colors by Doctor Cylon. Posted by the Web-Ed on 06/15/2012.
We don't know that much about Ariel except that she was changed from mermaid to human, and in either form proved a great temptation to spanking artists! We're also not sure how she wound up in high school, although we'll hazard a guess that she didn't suspect what was going to happen when she was told to remain after class one day. Then much to her dismay (and like the student in the George Morrice cartoon), she discovered she was to receive corporal punishment in the form of an OTK spanking! A delightful concept that the artist, Guernica, took the trouble to frame within a mock-up of the cover of a non-existent comic book. We don't know where Doctor Cylon found this one, but once he did he went ahead and re-colored it, and possibly made some other changes as well.
The OTK positioning is rather insecure - it's o.k. for her waist to be right at the inside of the spanker's left thigh, but then her legs should be supported by his right thigh - but both her face and her bottom are displayed nicely. We couldn't find out anything about Guernica, but if this is a typical sample of his work, we'd sure like to see more!