<!- IMAGE ->
<!- IMAGE ->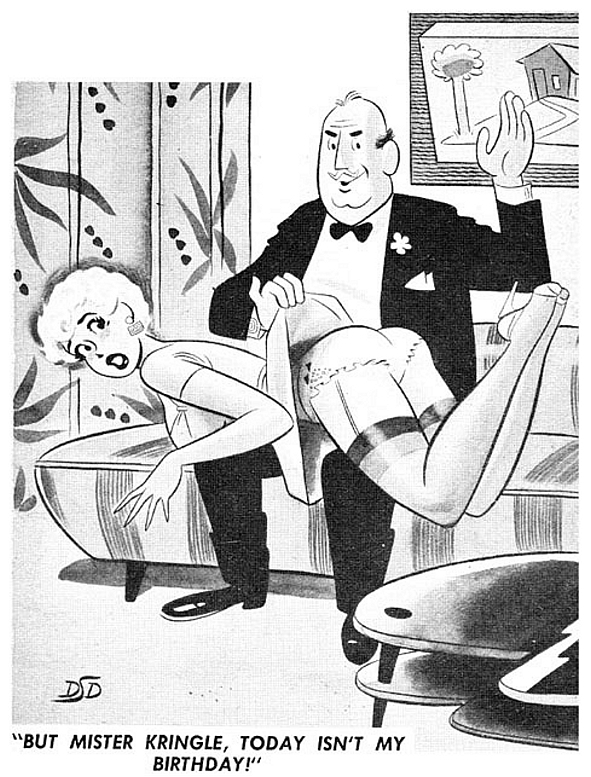 posted by the Web-Ed on 02/11/2010
We at first thought this cartoon from Dan DeCarlo was another example of secretary spanking, but since the man is wearing evening clothes instead of office attire and the setting looks more like a living room than an office, it must represent a different situation, exactly what we're not sure. But the gag is classic DeCarlo: a man spanks a woman on a flimsy pretext (here, a "birthday" spanking instead of spelling errors) because he secretly enjoys it, and the spankee never does catch on. Hard to justify in real life, but as an example of what we call "nudge-nudge, wink-wink, one-guy-to-another" humor it's acceptable if it can be pulled off as well as DeCarlo does here.
What we mean by "hard to justify" is that the spankee doesn't want to be spanked, nor has she really done anything wrong. Still, the reader (who doubtless wants to spank her as much as the spanker does) is left with the feeling that it's o.k. to go ahead and turn her over his knee. Where's the harm? Yes, we know it's merely a rationalization, but there's something about the drawing, perhaps the lack of any real resistance from the spankee, that makes us feel it's all right to smile when we see this.
This cartoon originally appeared in the February 1957 issue of Gaze and was subsequently reprinted at least once.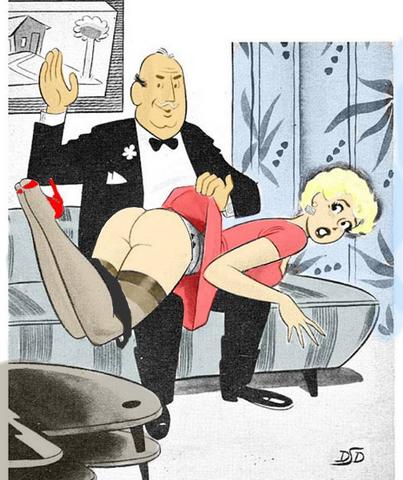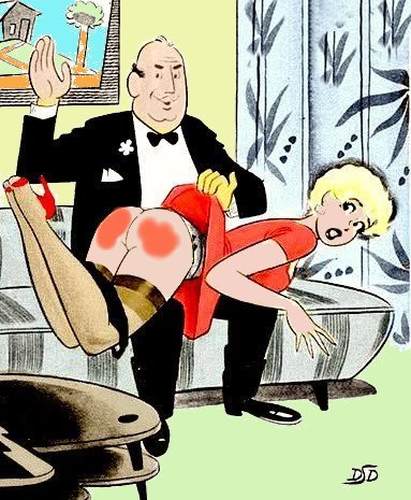 Here is an altered version of this cartoon, by whom we can't say although it could be Funbun, who altered DeCarlo's Hill Country Spanking #1. It has been colorized, reversed (mirror-image), and best of all, the spanking is now on the bare bottom (something DeCarlo and the other artists couldn't have gotten away with back in the 50's). Interestingly, although the caption has been removed, DeCarlo's signature (DSD) has been preserved! Probably after reversing the drawing, the artist blanked out the reversed signature and then copied it back in its original form as a sign of respect for DeCarlo.
06/01/2012: Someone else then added some further color - we don't know who.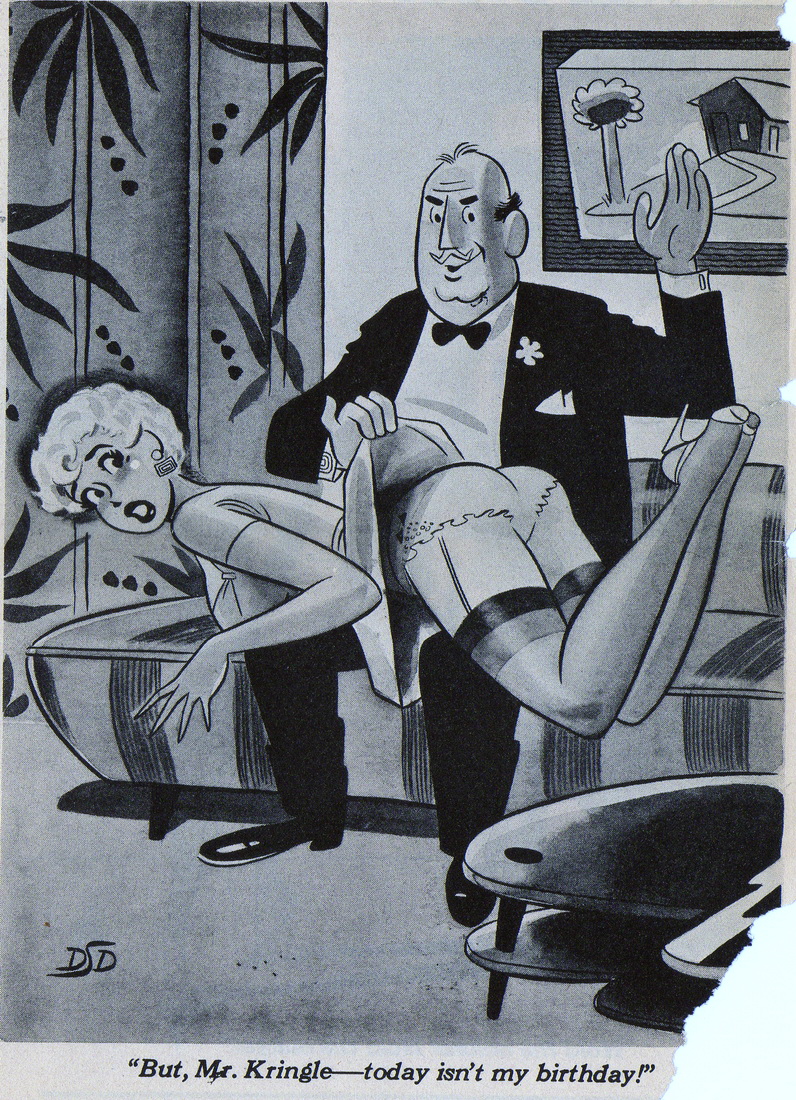 From Mike's collection; scanned and posted by the Web-Ed on 05/04/2012 (click to double-size).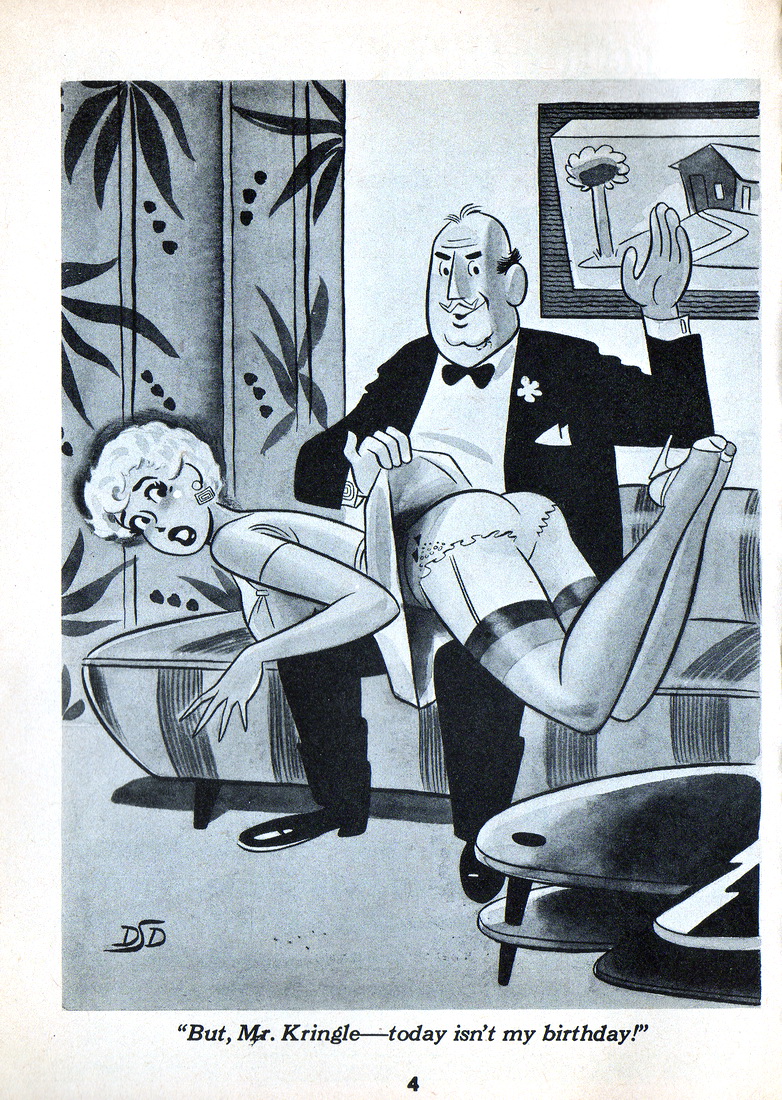 From Web-Ed's collection (click to double-size).
06/01/2012 Update: Here are two more versions, from Mike's collection (left) and from our own (right). We didn't know where Mike's had come from until we found ours in the April 1965 issue of Laugh Digest - the two appear identical and must have come from the same source.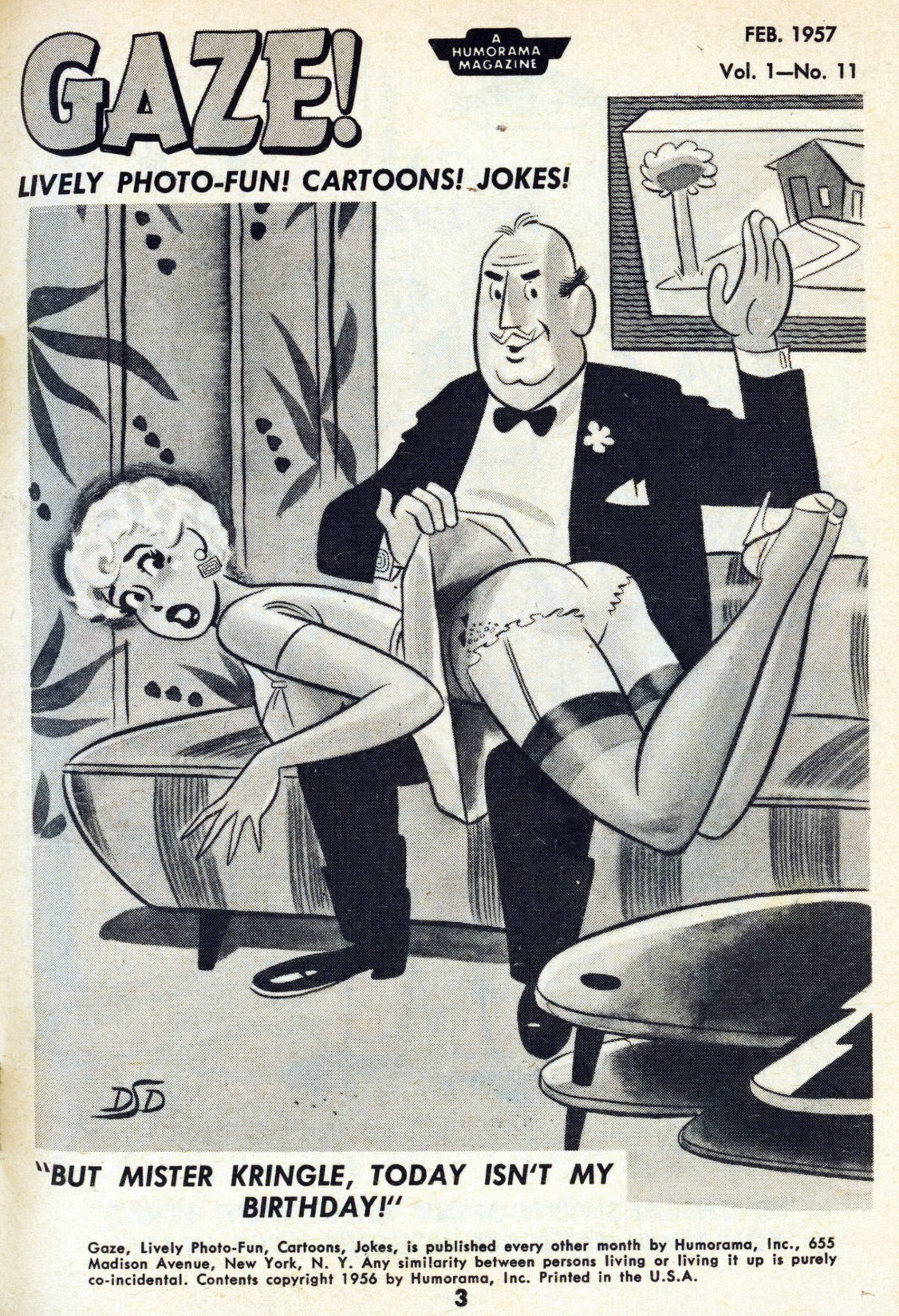 From Steve W's collection (click to triple-size). Posted by the Web-Ed on 03/01/2013.
03/01/2013 Update: We had known for a long time that the first printing of this cartoon was in the February 1957 issue of Gaze, but we didn't have a scan of it until recently when Steve W. supplied us with one from a recent acquisition of his. No change in the caption, but you can see that editor Abe Goodman liked it well enough back in 1957 to give it a very prominent position on page three, which corresponds to the splash page of a comic book.