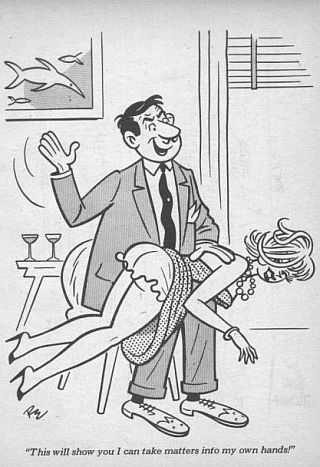 Posted by the Web-Ed on 11/26/2010
We begin a brief three-part series on the work of Frank Beaven with this cartoon in which the spanker demonstrates that he "can take matters into his own hands." We've pointed out a hundred times in these pages how feeble these old Humorama gags are, so we won't do it again, but we will draw attention to some of Beaven's characteristics: male with elongated nose and feet, female with pretty, delicate, pointed nose and well-rounded fanny who is quite happy to get a spanking. In this case, the two cocktail glasses and her slightly disheveled appearance suggest that our spankee might be slightly soused as well.
We note also the unusual signature (lower left-hand corner): it looks like "FE" but after comparing more samples, we've concluded that it's "RE". Why a man named Frank Beaven would sign his name "RE" is a story in its own, one that several of us were looking into earlier this year, and one that we'll take up in our next entry.
This cartoon first appeared in the August, 1959 issue of Gaze.