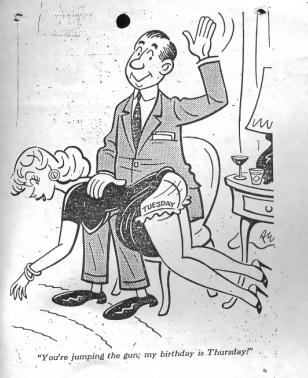 Posted by the Web-Ed on 12/03/2010
The second of our three-part series on the work of Frank Beaven (1905 - 1975) features that old cartoon staple, the "birthday" spanking given on the wrong day - by pure accident, of course (we saw the same theme recently as done by Homer Provence). Like Homer (but unlike DeCarlo), Beaven shows us that the "birthday girl" is quite happy to get the spanking, birthday or not.
The same characteristics we mentioned last time are on display here as well: male with elongated nose (less apparent here because of the angle) and feet, female with pretty, delicate, pointed nose and well-rounded fanny. These are satisfying spanking cartoons, yet Beaven produced fewer of them (and is much less well-known) than the Humorama "Big Six": Bill Ward, Bill Wenzel, Kirk Stiles, Dan DeCarlo, Homer Provence, and George Morrice. In fact, we know of only four - the three in this series, plus a Secretary Spanking we posted earlier this year without knowing that Beaven was the artist. Part of the difficulty is Beaven's unusual signature (seen here just under the table), which is easily misread as "FE". In fact, Beaven used more than one! Now let's see how the truth came to light.