12/23/2016 Update: When we posted this cartoon back in 2010, we had no idea where it came from, and of course we didn't even begin The Humorama Series until the following year so we merely presented it as another Humor entry. We've done a lot of research since then, and we now have identified this cartoon's four appearances in Humorama publications (a few cartoons appeared five times, but we think it was four for this one), so let's take a look at them now. Interestingly, there were three different captions used over the twenty-three year period.
The cartoon first appeared in the October 1958 issue of Joker. This was "prime time" for Humorama spanking cartoons, and Morrice had already been selling them for two years by this time. This is the only occasion on which it carried the caption "Do I get a receipt for this, Mr. Grundle?" Mr. Grundle might well have replied, "Yes - a nice red bottom!"
It then appeared in the August 1966 issue of Gaze with a new caption, the same one we saw in the reproduction above: "All I can say, Mr. Firth, is that I'm glad I'm not under a multiple listing!" This is a better caption as the joke is that if she were, she'd be getting multiple spankings as well. It must therefore have been this version that someone photocopied and put on the internet, probably many years ago. Notice, though, that although the caption is the same, the typography is different. Either there is an unknown fifth printing of this cartoon, probably from 1961 or 62, or the collector was forced (or decided) to reproduce the caption separately. This could have resulted from some photocopier size restriction, we suppose, and we have seen it happen with some of the Jeff Patton collection, although there really should have been no problem with digest-sized original material such as this.
From Joker (October 1958, click to double-size).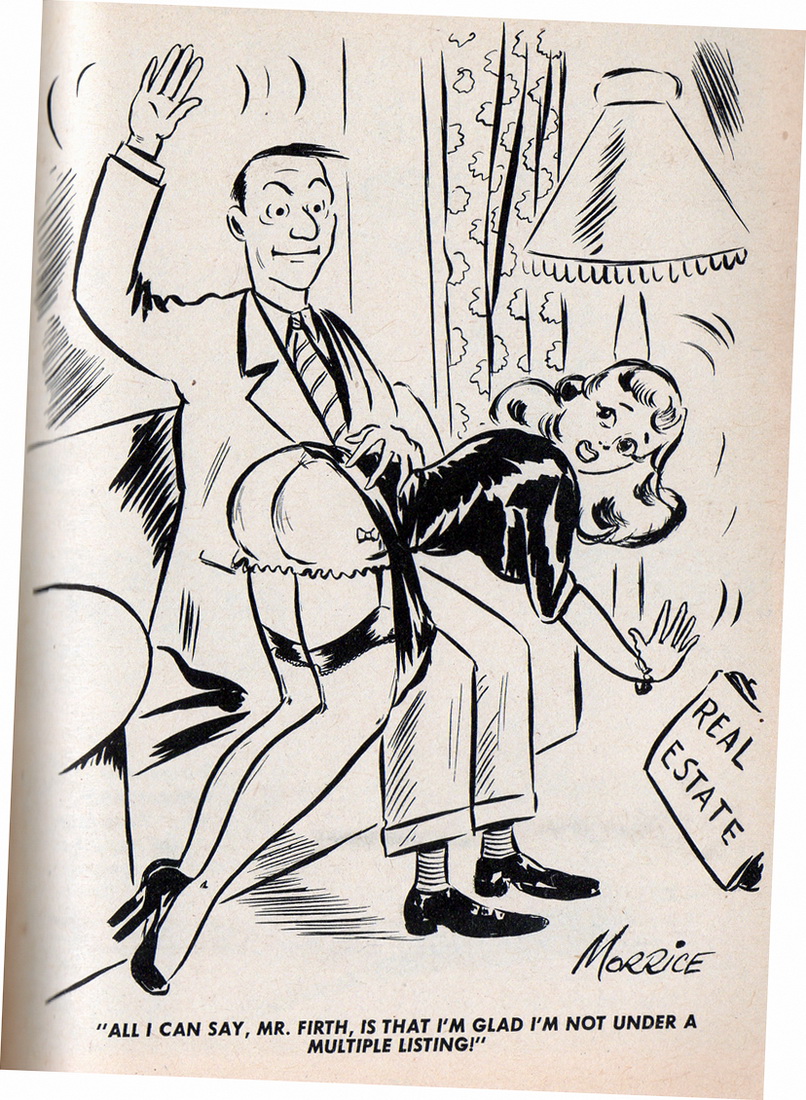 From Gaze (August 1966, click to double-size).
Nine years elapsed before the cartoon was printed again, this time in the January 1975 issue of Popular Cartoons, and with a third caption which reversed the intent of the second: "All I can say, Mr. Firth, is that I'm sorry I didn't make that error under Multiple Listings" with the clear implication she would have liked to receive multiple spankings. We can hope that Mr. Firth took the obvious hint and gave them to her.
The cartoon's final printing was in the August 1981 issue of Funhouse. We should notice, by the fact that the caption takes up multiple lines, that it was printed at quarter-size (on a magazine-sized page). This was also true of the Jan. 1975 printing, and it is in fact possible that Humorama simply reprinted the entire page, possibly with some minor changes, to reduce layout time and therefore costs. We discovered several instances of Humorama doing this, but didn't have both these issues available at the same time to make a comparison - or perhaps we simply forgot.
One other note: this was the last spanking cartoon that Humorama ever printed, for August 1981 was the end of the line for them. We have always thought that the August issue of Popular Jokes was printed after Funhouse, but as it strangely had no spanking cartoons - rather sad when you think about it - this Morrice cartoon in Funhouse was the last one ever to roll off the Humorama presses.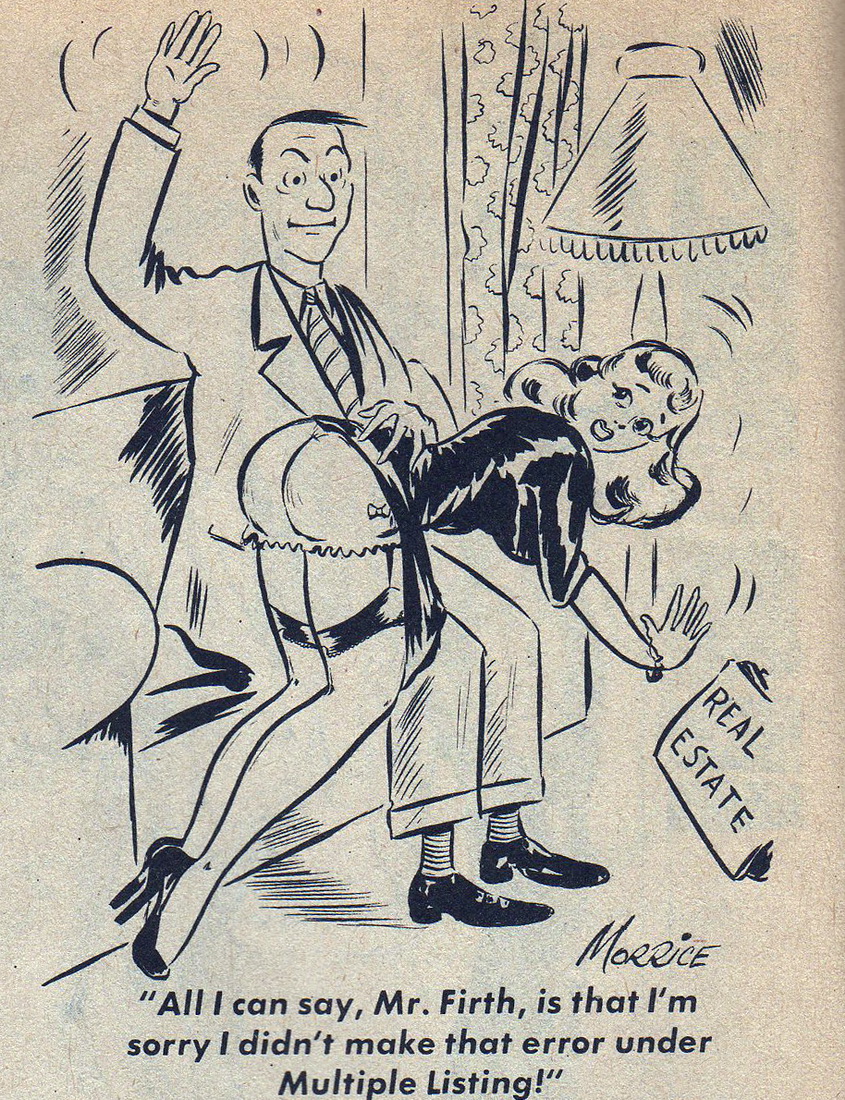 From Popular Cartoons (January 1975, click to double-size).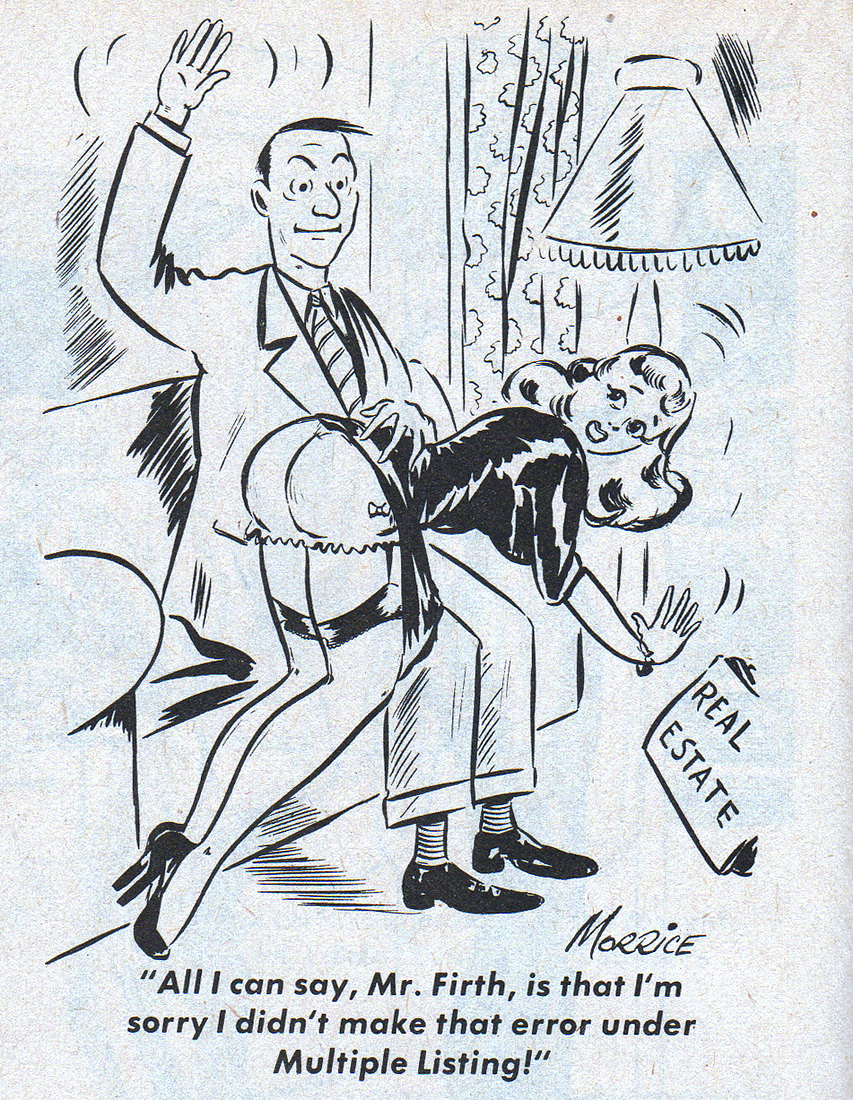 From Funhouse (August 1981, click to double-size). This was the last spanking cartoon that Humorama ever printed. Posted by the Web-Ed on 12/23/2016.