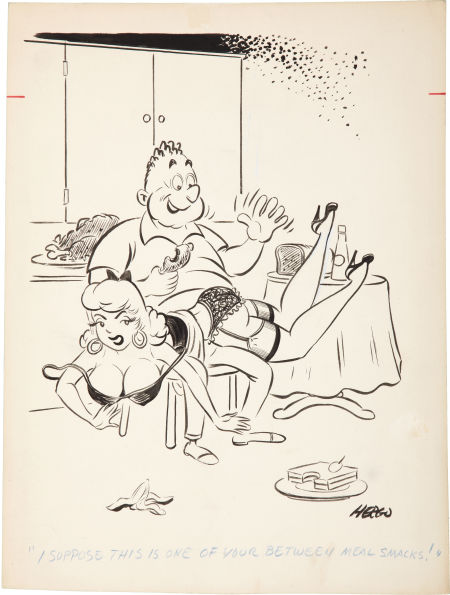 Posted by the Web-Ed on 06/04/2010
We had planned for a three-part series on Herc, but while doing other research we stumbled on this one at an auction house, so we're going to extend the series and make this part three. It's hard to see the point of this cartoon exactly, since the chow-hound doing the spanking seems as interested in eating as he does in applying some well-placed smacks to the spankee's bottom. There's certainly a time for eating, but during a spanking isn't it. The caption reads "I suppose this is one of your between-meal smacks!" and was probably written by Abe Goodman rather than Herc himself. We suppose this rather weak play on words is the point - but at least the OTK positioning is pretty good.
DRD dug up some information on Herc which he shared with us: "Herc's full name was Jack Howells (Herc) Ficklen. Born, lived (with the exception of a hitch in the army during WW2), and died in Texas. Primarily was editorial and political cartoonist for the Dallas Morning News. but obviously did some Humorama stuff as well." [The discussion on the Spanking in Media forum can be found here].