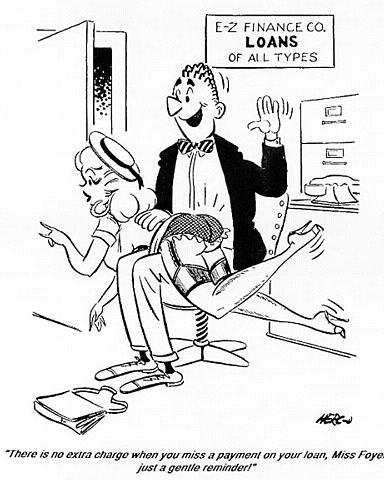 Posted by the Web-Ed on 06/04/2010
For the last entry in our four-part series on Herc (Jack Howells Ficklen), we have a cartoon quite appropriate for the current age of financial meltdowns, plus an animated version. It seems that Miss Foye has missed a payment on her loan (tsk, tsk), so instead of launching Operation Repo, the finance company commences Operation Spanko! There's a lot to be said for this method of debt collection - it's quick, effective, and fun! And it makes for great fantasy material, too.
Miss Foye doesn't seem to object to this "gentle reminder" as the loan officer calls it, which is characteristic of Herc.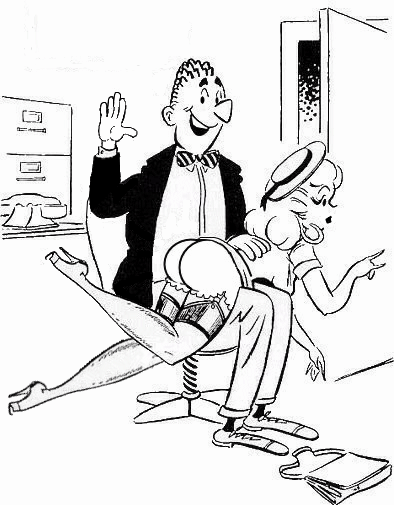 Here'a an animated version by Hugob00m. B00m commented:
"You can tell [it was mine] by the kicking legs. I haven't seen any other animators that do that... I drew a pair of white cami-knickers like the ones that were popular in that era. I didn't like the checkerboard design that the original artist had drawn on her panties."
This was actually more of an improvement than we had at first realized. We think the checkerboard design was an attempt to suggest a finely-stitched translucent fabric as we recall that Gene Bilbrew once did something similar, but it's not possible for an artist to duplicate, say, a fabric texture of 30 threads per inch with cross-hatching alone although we applaud the attempt. B00m also enhanced the spanker's grin. This spanking will teach her not to get behind on her payments!
08/31/2012 Update: Two more versions now, one with an alternate caption and another which has been colorized by Todd. We still don't know where this cartoon first appeared, although we know it was reprinted in the December 1964 issue of Stare. That version is not reproduced here although it's in our collection because it was printed at 1/4 size (Stare was heavy on the girls and light on cartoons).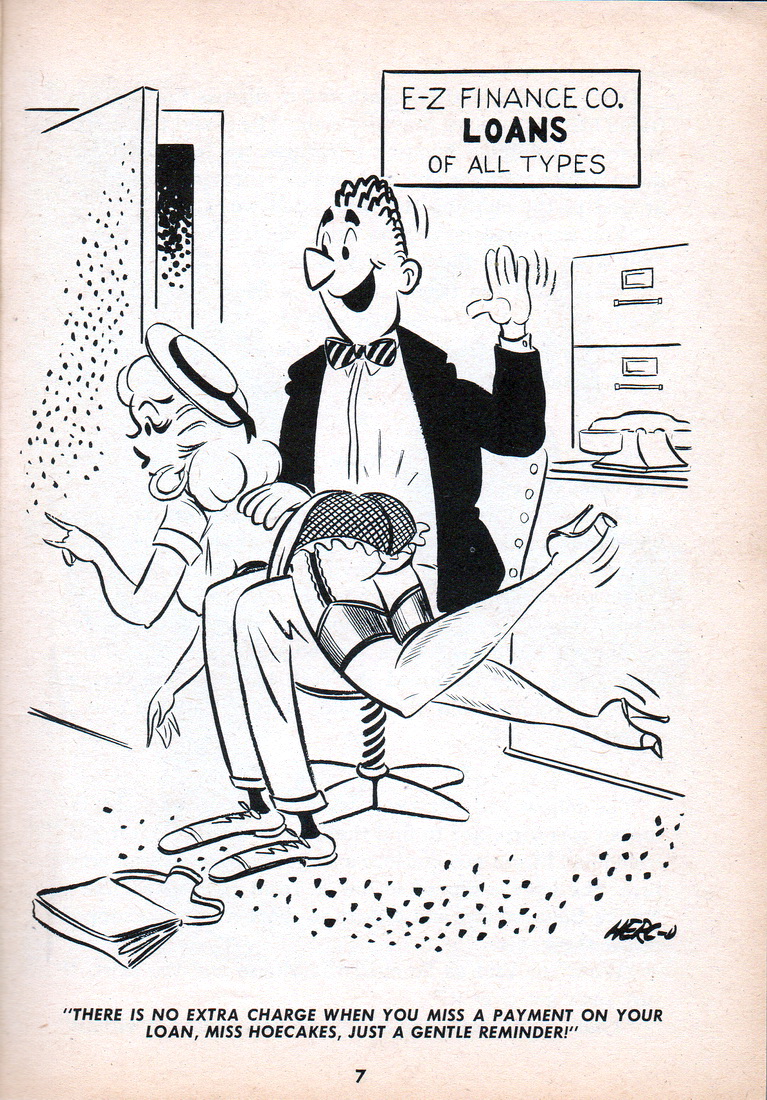 From Gee-Whiz (January, 1958). Posted by the Web-Ed on 12/21/2012 (click to increase in size).
One final version of this excellent "spanker" now, from the January, 1958 issue of Gee-Whiz. This was the cartoon's first appearance and is the clearest scan available. The caption refers to our delinquent borrower as "Miss Hoecakes" instead of "Miss Foye", but is otherwise pretty much the same as the later version. If we had any money, we'd be tempted to make loans to deserving young women - with a proviso that would specify the borrower pay the same penalty Miss Hoecakes does here should she become delinquent.