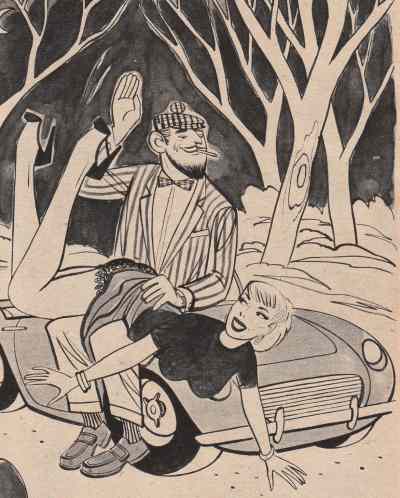 Posted by the Web-Ed on 09/24/2010
Let's continue our series on the work of Homer Provence (1919 – 1975) with this example, which we believe to have been one of his earlier efforts for Humorama. We found it at Fetish Pop Culture.
A beatnik spanker on the hood of his two-seater really dates this one, but the main features of Homer's style are already on display: good OTK positioning with bending at the knees (but no hip flexion) and an intelligent-looking spankee who is very, shall we say, cooperative about being spanked. Homer's spankees are generally slender with very long lower legs (knee to ankle), and these characteristics are also on display. Homer is one of JimC's favorites - we like him too, but because of his angular style, his bottoms are a little flatter than we prefer in a spanking cartoon. We'll mention this again later on when we see an altered version of a different cartoon.