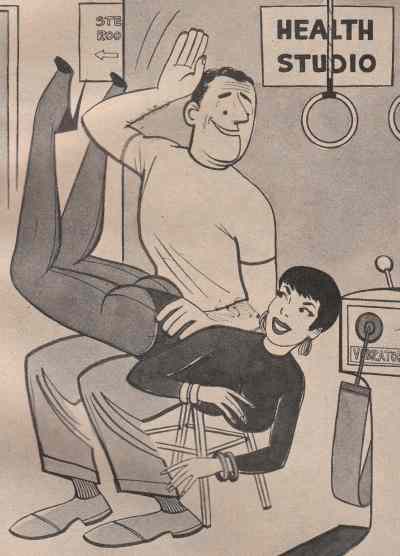 Posted by the Web-Ed on 09/24/2010
We continue our series on the work of Homer Provence with another example we found at Fetish Pop Culture.
The most unusual thing about this one is the "thong effect" - we thought that thongs (which we hate) came into use long after the 1950's, the period when we believe it was drawn. We might also mention that heels were not worn with exercise leotards even in the 50's, something Homer may not have thought about. No caption is available, but Homer's characteristics are all on display here: good OTK positioning with bending at the knees but no hip flexion, and a slender, intelligent-looking spankee who is very much in accord with her own spanking.
Another characteristic we've only touched on before is that Homer relies much more on angles than curves in his drawing lines. He's not alone in that - comics great Alex Toth comes to mind - but it affects a spanking artist's work in one way, namely, the bottom tends to be drawn flatter than we like as a result. Admittedly, this is a matter of taste and not a purely artistic question, but we like our spanked bottoms to be nice and round. In this case, Homer does seem to have put in some extra effort to make this a "well-rounded" cartoon.