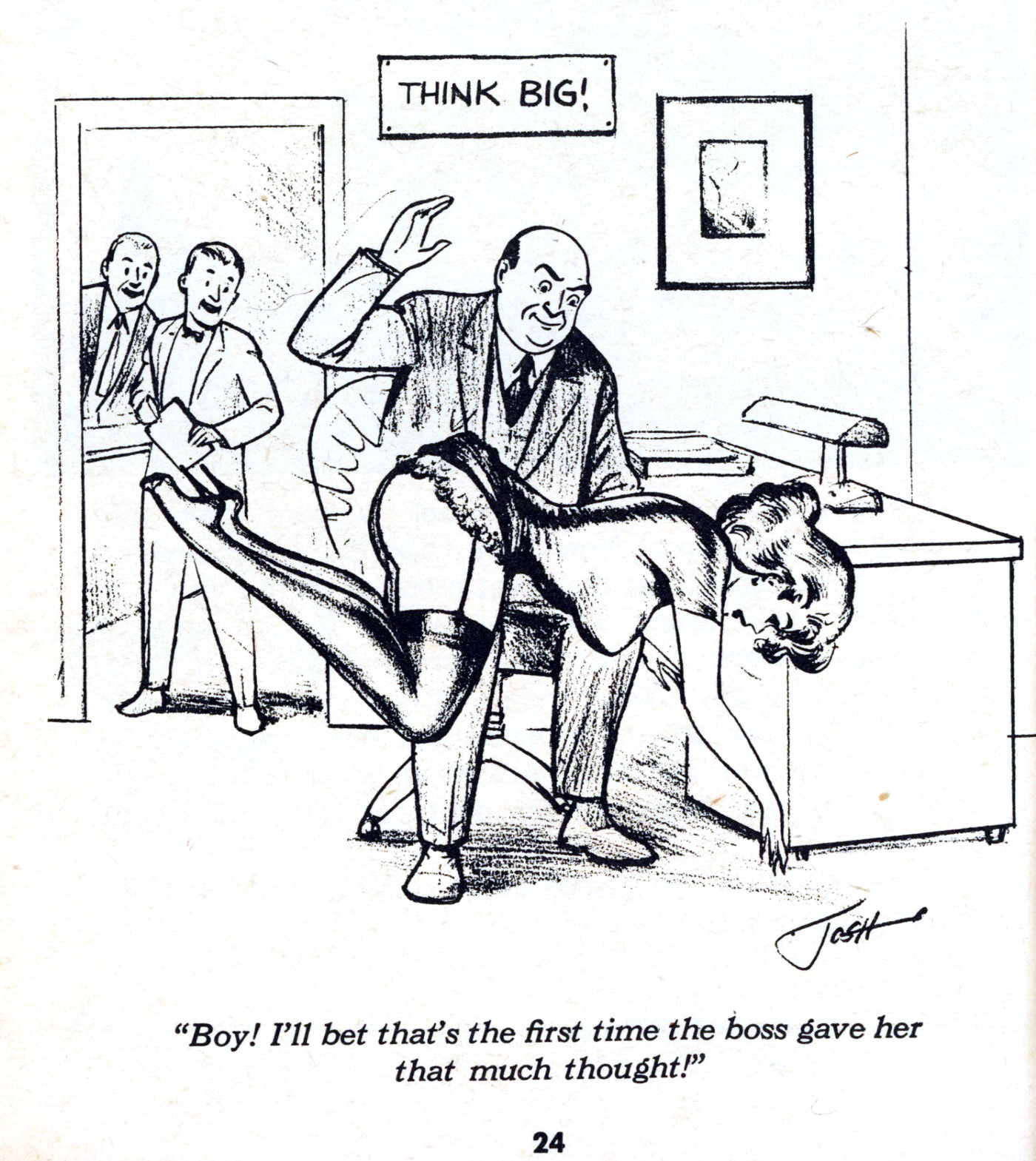 From Eye (April 1960). From the collection of Steve W.; posted by the Web-Ed on 02/15/2013 (click to triple-size).
We come now to the second spanking cartoon by Superman co-creator and original artist Joe Shuster (signed "JOSH" for "JOseph SHuster"; the first one was Secretary Spanking #15). It was really Craig Yoe who discovered this one, and he reprinted a small version of the original art in his book Secret Identity. He must not have known the original publication information because he didn't give any, and since the printed version was too small to use here on CSR, it became a two-man race between Steve W. and myself to see who could find it in a Humorama digest first. Ultimately, Steve found it in the April, 1960 issue of Eye.
This time the secretary's spankable offense is unclear, and the gag is a little obscure, relating to the "Think Big" sign posted in the office. Shuster has her well bent-over, but she's not exactly over the boss's knee as much as she's floating above it. Shuster's eyesight was very bad by this time, but he still had a clean line and the faces of both spanker and spankee show some extra effort. The spankee is endowed with a generous-sized bottom, and as was sometimes the case with Kirk Stiles, we can't tell whether she's wearing cami-knickers that are strangely riding up or just a half-slip with no panties.
Overall, Shuster was a decent spanking artist, but we think his spanking and fetish artwork was a product of a desperate need to find work of any kind rather than the expression of a hidden kinky side. We'll have more to say about this when we do a series on Shuster's non-humorama spanking work.