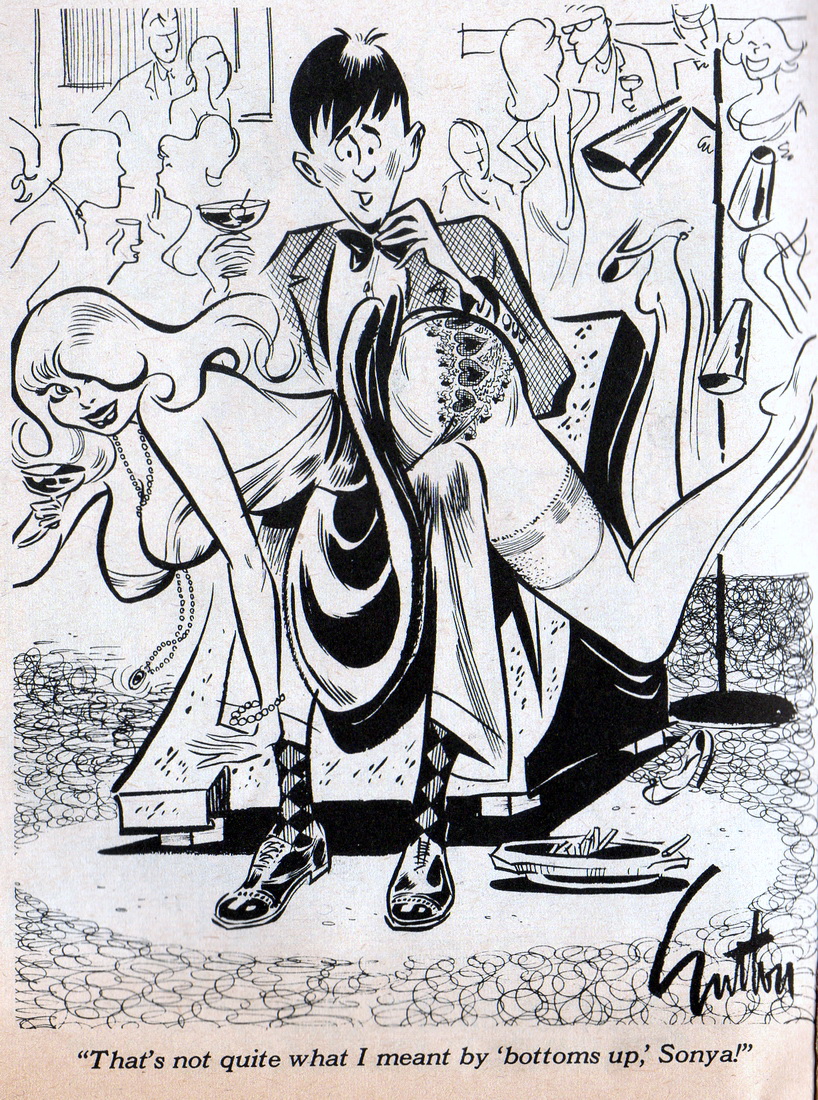 From Snappy (May 1960). From the collection of and posted by the Web-Ed on 02/22/2013 (click to double-size).
The 1950's are giving way to the 1960's in this cartoon from the May, 1960 issue of Snappy. You can see it in the style of the furniture in the room - in fact this scene resembles the kind of party pictures we remember from early-60's issues of Playboy. You can also see it in the contrasting styles of the spanker and spankee - our strait-laced, argyle sock-wearing spanker wasn't expecting his eager, uninhibited spankee to drape herself over his knee when he innocently proposed "Bottoms Up" as a toast, and he doesn't seem sure of what to do next. His reticence provides the humor here, and note that we have gone from willing spanker/reluctant spankee in the early Humorama cartoons to willing spanker/willing spankee in some of the ones by Homer Provence and Kirk Stiles, to reluctant spanker/willing spankee in this one. We can't imagine something like this coming from 1954-55, and we regard it as further proof that the 1950's were an era of rapid social change rather than one of dull conformity.
The artist here is Tom Sutton (1937-2002) who had a short career at Humorama but a long one later on in comics (c. 1967 - 1992). Having left the Army in 1959, he was probably still in college when he did this cartoon, and he went to Marvel Comics shortly after that. In going from Humorama to Marvel, he took the reverse of the path followed by Dan DeCarlo and added himself to the roster of the men who worked in both places (the others being DeCarlo, Robert Q. Sale, and Jim Mooney).
Sutton's work in comics was occasionally quite interesting, and we have to wonder how good a spanking cartoonist he might have become had he continued at Humorama until the end of its prime years in 1962. As it was, he did very few other cartoons for Humorama and no other "spankers".