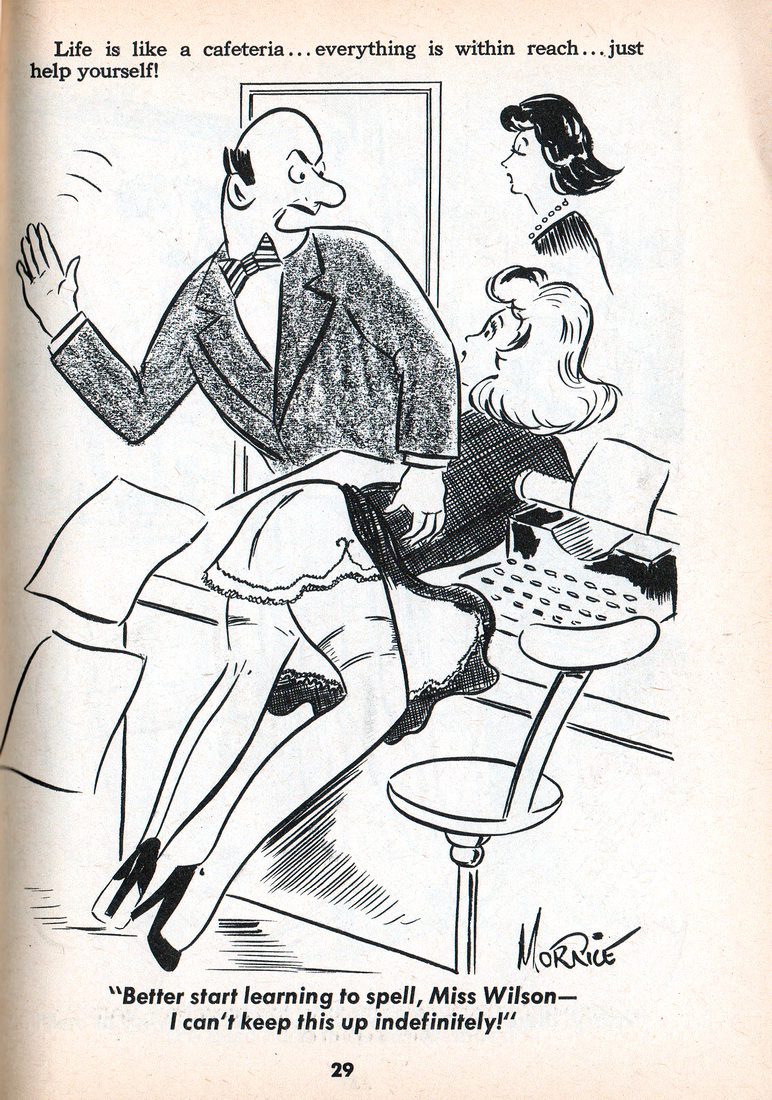 From Jest (November 1961). From the collection of and posted by the Web-Ed on 03/29/2013 (click to double-size).
In his spanking cartoons for Humorama, George Morrice seems very clearly to have taken his cue from the other members of the Big Six (Ward, Wenzel, Stiles, DeCarlo, and Homer). This probably stemmed from the fact that as a resident of the U.K. he was geographically the furthest away from Humorama editor Abe Goodman, and for all we know never even met him personally. (Ward and DeCarlo were certainly acquainted with Goodman; Wenzel and Stiles are known to have travelled into New York City to meet with their various editors which probably included Goodman). So if you don't know an editor personally, what do you do? The logical thing would be to look at what kind of cartoons he's already buying and try to give him more of the same. This appears to be what Morrice did.
With Goodman having printed so many prior examples of the Secretary Spanking, it's no surprise that Morrice should have attempted one of his own. Bad spelling is once again the rationale for administering some corporal discipline, and the routine here is fairly familiar. There are, of course, a few individual touches which set Morrice apart: (1) The secretary is bent over the desk (like in the movie Secretary) instead of being turned OTK; (2) She's wearing a half-slip and not the cami-knickers often favored by other artists (and even Morrice himself on several occasions); (3) The humor revolves around the spankee's discomfiture at receiving a genuine disciplinary spanking. Note that in many of the other Secretary Spankings, the boss enjoys giving the spanking and the petty offense, whatever it might be, is merely an excuse to lay on the spanks.
The joke here of course is that the boss is complaining to the secretary that he "can't keep this up indefinitely" which would be much like complaining that his hand hurts. The casual passer-by in the background is not taking any notice of what's going on, perhaps because spanking was nothing unusual in this or any other office found in Humorama-land. This is another CSR discovery that hasn't been seen on the 'net before.