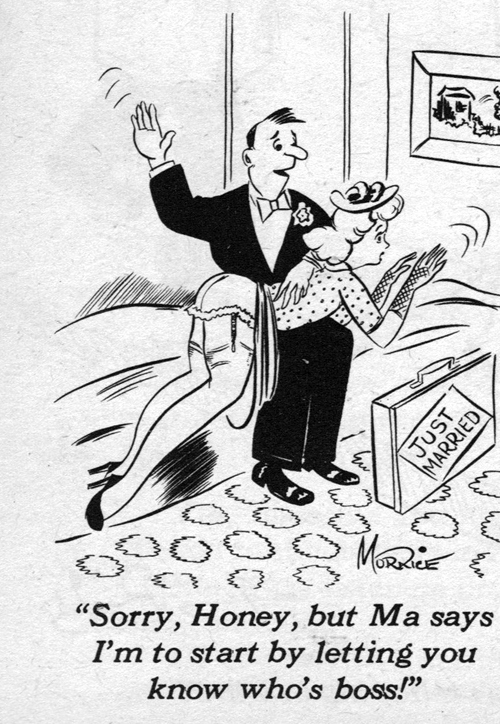 From Romp (November 1961, printed at quarter-page size). From the collection of TipTopper and posted by the Web-Ed on 04/05/2013 (click to increase in size).
At this point in our long search for Humorama spanking cartoons we really weren't expecting to find anything on the 'net we hadn't already seen before. But then on A Voice in the Corner, we spotted this effort by George Morrice which TipTopper had provided. He identified the source as the November 1961 issue of Merry-Go-Romp, but we believe this was an editorial play on words and the actual Humorama publication name was Cartoon Romp, which we have always shortened to just Romp. (We have two of the six issues from 1961, but not the November one so we can't double-check this).
Our startled spankee is being turned over her new husband's knee because "Ma says I'm to start by letting you know who's boss!" This is actually a very good idea to get a new marriage started on the right foot, and the gag here seems to be a combination of that fact and the "resolute" husband having to be told by his mother to do it. As is typical for Morrice, the spankee is somewhat indignant, has rather long legs and is wearing a half-slip. Good OTK positioning contributes to making this a satisfying Humorama "spanker".