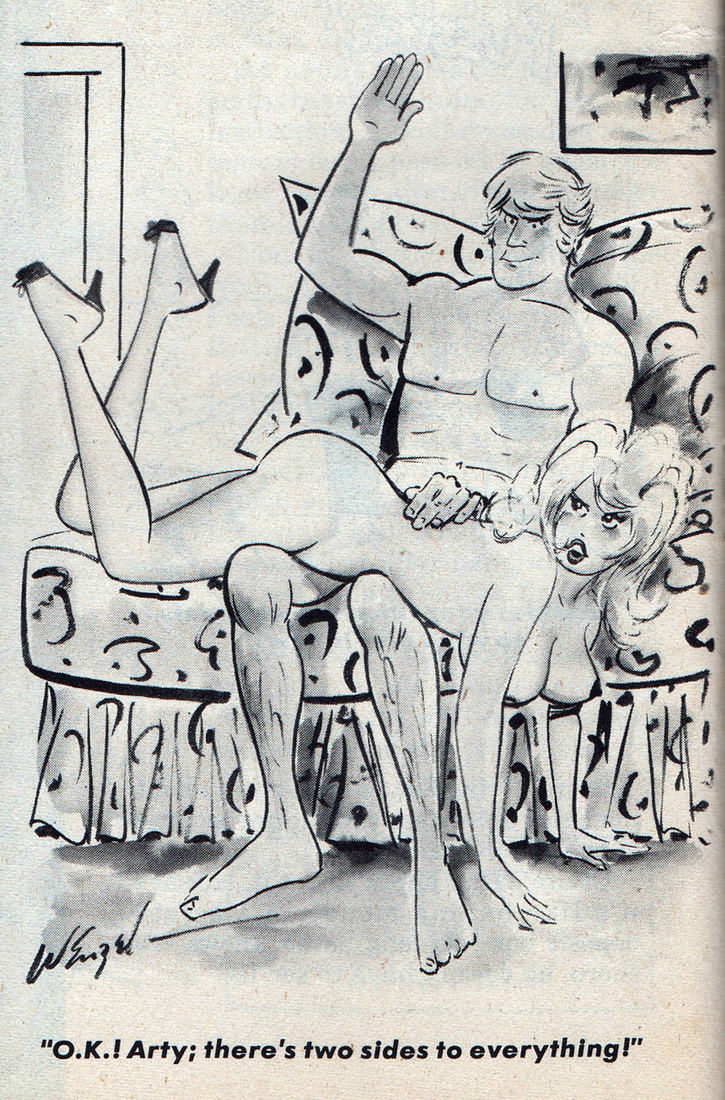 Art by Bill Wenzel. From the October 1973 issue of Cartoon Parade. Posted by the Web-Ed on 5/15/2015 (Click to double-size).
We come now to the last Humorama cartoon we have in our files at the present time (of course we're still looking and hoping to find a few more). This one is known to be from Humorama's final decade (1972-81), specifically the October 1973 issue of Cartoon Parade. During this period, Humorama combined reprinted cartoons with some new material, including new spankings. Exactly what the proportions were we haven't estimated yet, although the majority of the cartoons were clearly reprint. We believe that Bill Wenzel did most of these last-decade spanking cartoons, and that's just as well, for if he hadn't gained much twenty years after Humorama's heyday in the 1950's he hadn't lost much either. One of his strengths had been the beautifully clinging dresses he drew that looked as though they offered no protection at all from a swatting palm, and that particular skill alone is not evident here - but only because the spankee's bottom is now bare! (We will observe here again that while bare-bottomed models appeared around 1957, and the bare derriere could be shown even earlier in cartoon form, there were no panties-down spankings in Humorama even as late as 1960, which is just before the reprint period began.)
The rest of the elements are still excellent: good control of the ink wash, fine OTK positioning, determined-looking spanker, and a full-figured spankee with a spankable bottom. We're not sure what the gag is supposed to be - do the "two sides" refer both to differing positions and to the front and back sides? - but the only flaw apparent to us is a strand of misplaced hair that Wenzel placed too close to the right side of the spankee's mouth, confusing the drawing line somewhat. Perhaps this wasn't a problem with the original drawing but only with a reduced reproduction. Besides the bare bottom, there is one other difference between this and Wenzel's 50's "spankers": the attitude of the spankee. Here she seems a little peeved, although she finds the spanker's "argument" pretty convincing, whereas in the '50's the spankee usually seemed both innocent and accepting of her spanking.
And so for the second time we place The Humorama Series on hiatus until we find some more cartoons.