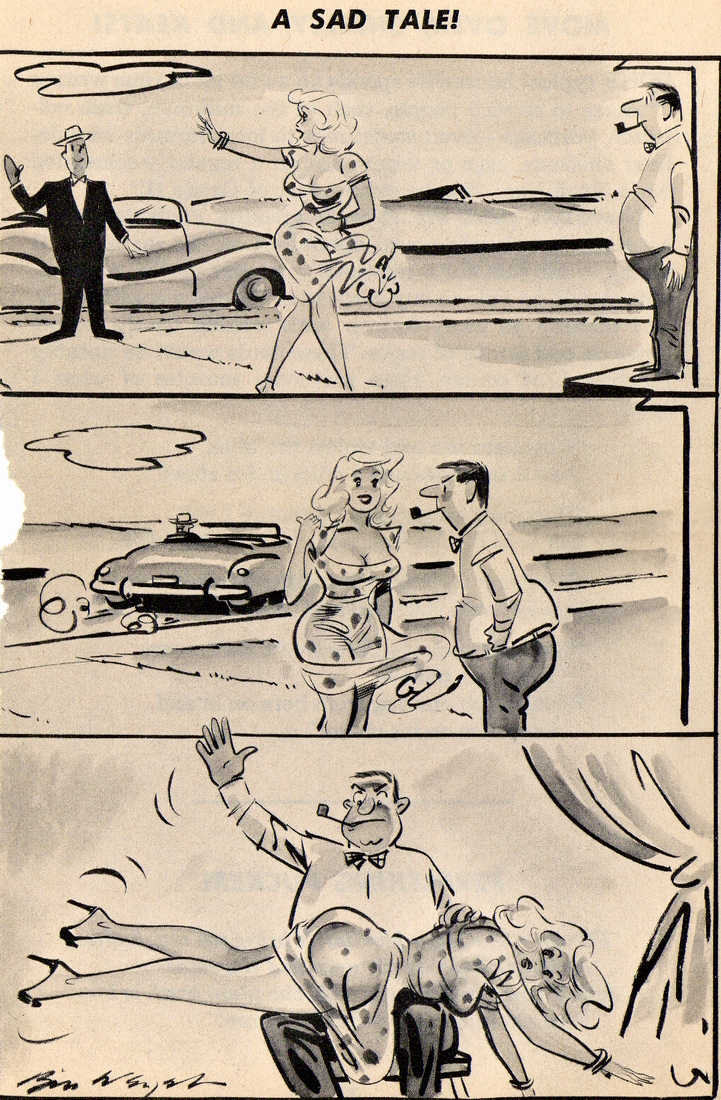 Another CSR exclusive, scanned from Mike's collection and posted by the Web-Ed on 04/15/2011. (Click to enlarge).
This may not be Bill Wenzel's best spanking cartoon, but it certainly is the most unusual! All of the other Humorama cartoons we have seen up to this point are just that - cartoons, one-panel drawings. This one is sequential art, like a daily comic strip. Wenzel was the only one of the Humorama Big Five (the others being Ward, DeCarlo, Stiles, and Homer) to have done this as far as we know. In a way this is strange since DeCarlo and Ward had done extensive work in comics and might therefore seem more likely to produce sequential art than Wenzel. Time is the probable explanation for this piece's uniqueness: it generally takes longer to draw three 1/3 page panels than one full page (assuming equal amounts of detail), and when you're only getting $15.00 per cartoon, you need to keep the time as short as possible, something we'll mention again later in this series.
This wordless strip tells the tale of a married woman who accepts a ride from a man in a sports car. When she's done telling her husband the story, he turns her over his knee, whether because he doesn't believe her or because he does believe her (in which case she took a dangerous chance), we can't say. If we were in the husband's place, we'd believe her - she simply and innocently got a lift - and then we'd go ahead and spank her for taking such a reckless chance with her life.
The OTK positioning is good, and she doesn't seem to be protesting her husband's decision. Wenzel also gives the fabric of her dress an unbelievable clinginess given how loosely it fits.