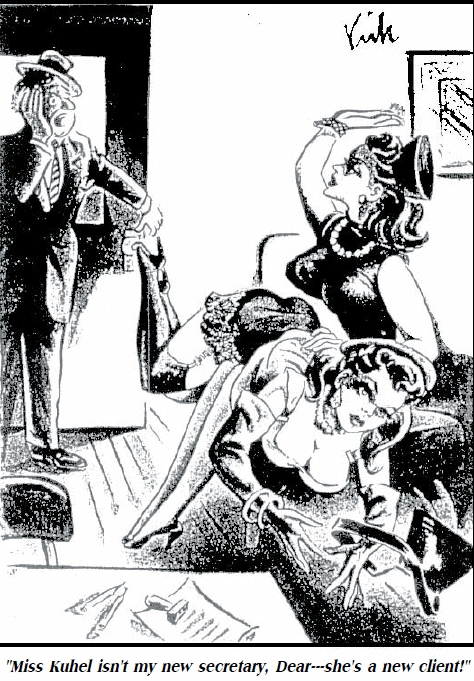 Posted by the Web-Ed on 07/08/2011.
Let's now visit the second of Kirk Stiles' two F/F "spankers". This one came very close to being another F/F secretary spanking (we saw the first one last time), but the caption informs us it's a new client being taken OTK (and the spankee's clothes and accessories suggest the same). It's probably a fool's errand to spend too much time trying to comprehend Humorama gags, but sometimes we can't help ourselves. Here we apparently have a husband/wife business partnership, and if the husband were spanking the wife, that would make sense. We could even accept the wife spanking the husband's secretary. But why would the wife spank their client? If spanking female clients were the key to business success, Chicago Spanking Review would be bigger than Microsoft!
We don't have any publication details on this cartoon, so perhaps it appeared earlier with a slightly different caption. "You mean Miss Kuhel is a new client, George? I thought she was the new secretary!"