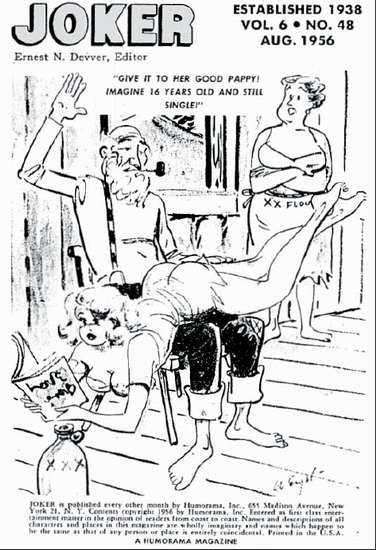 From Joker (August 1956); thought to be from Jeff Patton's collection.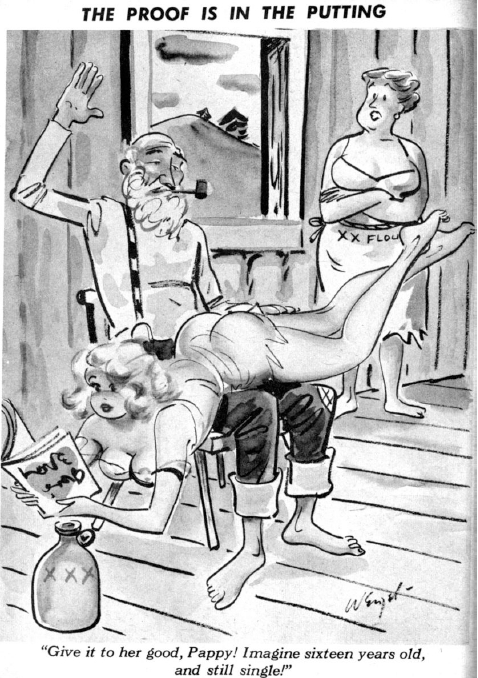 From Romp (April 1960, PDF version in Web-Ed's collection). Posted on 12/02/2011.
Bill Wenzel may very well be the man responsible for starting the spanking ball rolling at Humorama. We believe he did the first secretary-themed "spanker" back in July 1955. Only a year later, this cartoon appeared in the August 1956 Joker. It was probably the first that was set in the hill country (Dan DeCarlo did two others, one of which was based on Li'l Abner). The daughter needs to be spanked because, as her Ma observes, she's "sixteen years old and still single!"
Unfortunately, Wenzel here commits his most common compositional error - having the spanker use the wrong hand - and this seems to have inspired at least one other artist to correct the mistake, as we'll see below. Before we go there, we should point out for younger readers that the "XXX" marked on the jug indicates it is filled with (illegal) corn liquor, such jugs being frequently-used symbols of hillbilly life for cartoonists of Wenzel's era.
We found these two alterations on Underground-Animations.com, and we don't know whom to credit for them, although it's possible that the first, with bottom bared, was done by Funbun and the second, with more extensive alteration including coloring and switching to the correct hand, was done by Jon. Both images have been reversed, and both take advantage of Wenzel's extremely clingy fabrics, which outline the spankee's bottom so clearly that it wasn't too difficult to bare it along its original contours. A nice improvement in both cases!