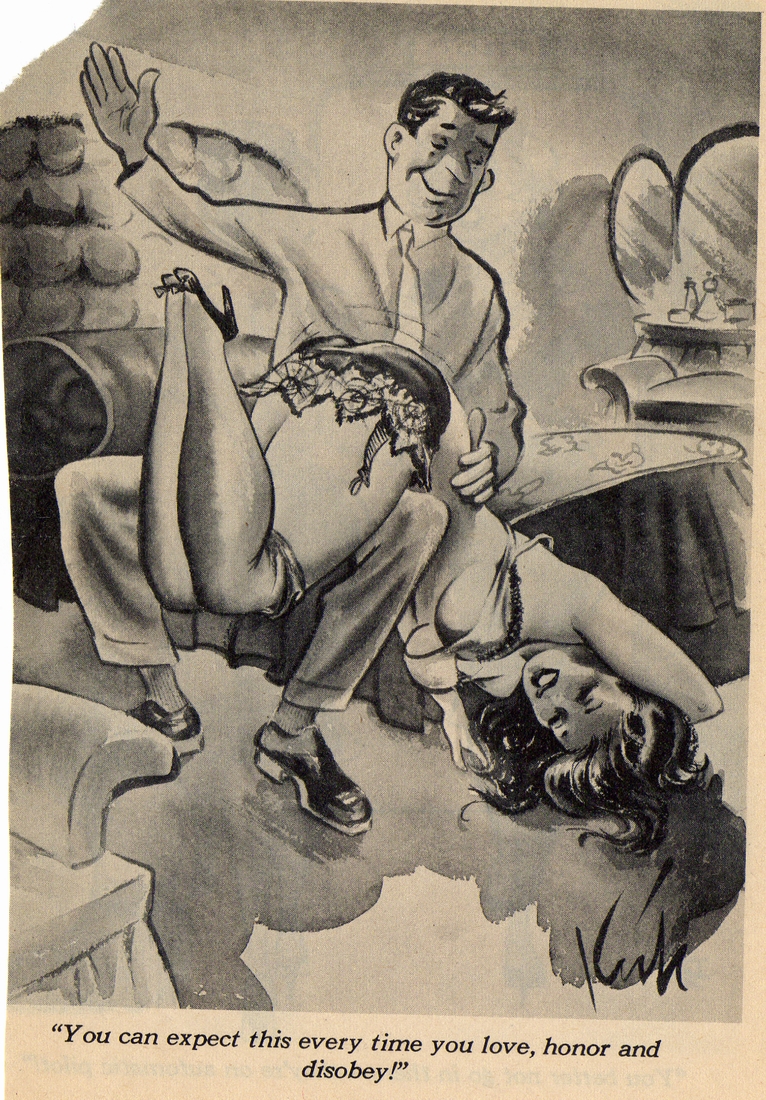 Art by Kirk Stiles, from Mike's collection. Presumed to be from the August 1966 issue of Laugh Riot. Scanned and posted by the Web-Ed on 03/02/2012 (click to double-size).
Domestic Discipline next from Kirk Stiles as a husband spanks his wife and promises, "You can expect this any time you love, honor, and disobey!" He doesn't seem angry or upset, though, and neither does she, so perhaps they're both comfortable with DD as part of their relationship. The gag, referring as it does to the marriage vow that used to be taken by the wife to "love, honor, and obey," really dates this cartoon - to a better time, we'd say.
Stiles used many variations in his OTK positioning, sometimes tending to to have the spankee angled across the spanker's lap rather than being taken straight across. This would be impossibly awkward in actual practice because the spankee would tend to fall off, but the effect is slight enough in this particular case that it isn't too noticeable. Stiles' greatest fault may be his inconsistent anatomy, with a decided tendency to shorten the buttocks and bulge out the thighs. That tendency, while present here, is somewhat kept under control. Our strong preference, expressed elsewhere, is for the buttocks to project back from the thighs (which is anatomically correct) and to be long enough to provide a nice, tempting target.
This is another cartoon that Mike collected back in the 1960's. We have identified the most likely source as the August 1966 issue of Laugh Riot. It must have appeared earlier, probably in the late 50's, but we don't know the exact date.