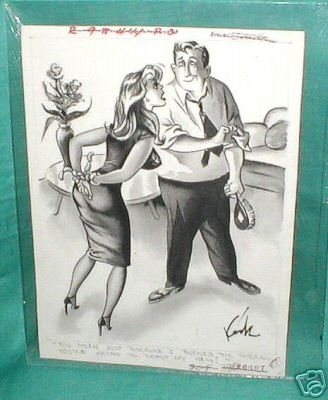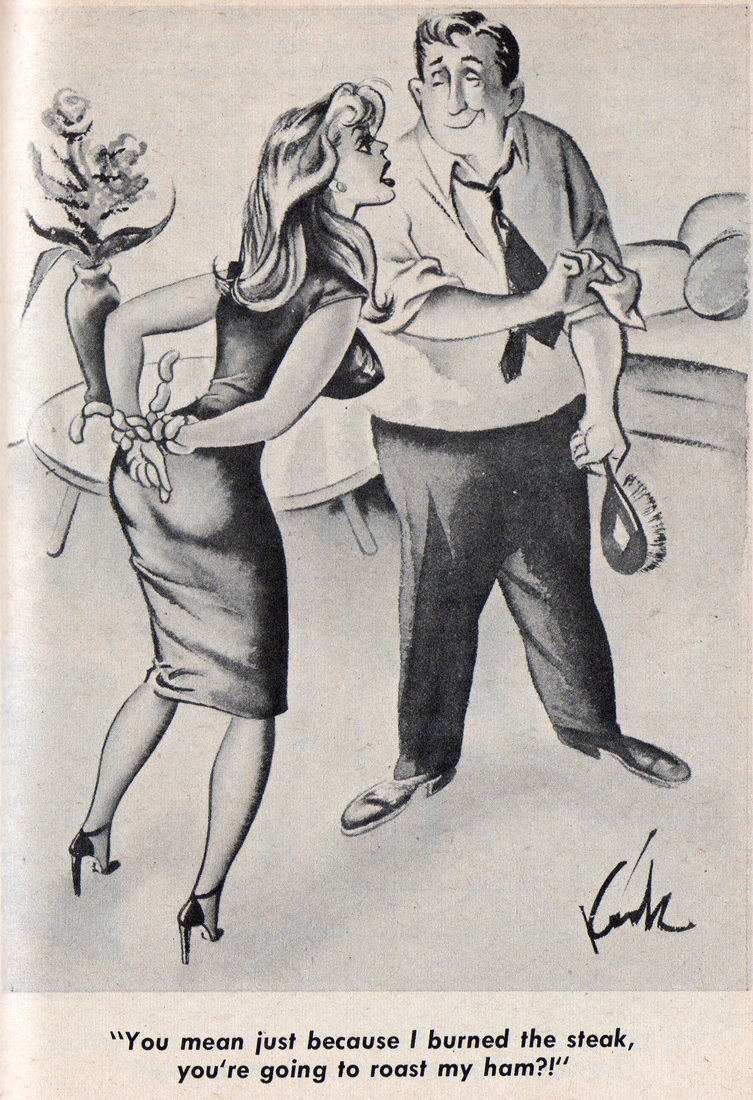 Another form of Domestic Discipline from Kirk Stiles as a husband spanks his wife for burning the steak. As he rolls up his sleeve, hairbrush in hand, she asks, "You mean, just because I burned the steak, you're going to roast my ham?" It's not a bad gag, really, when you consider how quickly these cartoons had to be done. Conception and execution together would net Stiles a big, fat $15.00 from Abe Goodman - and he had to pay for his materials and postage out of that! And gags relating spanking to cooking are always going to be a little strained, with the easiest probably being variations on "rump roast" (e.g. Wenzel rump roast, and which would have worked here, as a matter of fact). "Roast ham" was only used this once as far as we know. Anything else would have sounded even more strained - broiled buns, anyone?
Stiles gives us a very beautiful spankee-to-be, unfortunately not posed in the OTK position to receive the hairbrush. Most unusual is the use of bondage, which we have seen from Stiles once before and which we believe to be unique to him among the Humorama "Big Five". The "rope" the spankee's wrists are tied with resembles a string of pork-link sausages - was this another joke of Stiles', or do we just have food on the brain after discussing these various gastronomical gags?
We found this at Worthpoint before determining that it first appeared in the July 1959 issue of Jest. Here is some of what the catalog had to say:
"This is a vintage original piece of cartoon artwork by artist Kirk Stiles, dated 1959. It is done in black ink wash on watercolor stock and measures 9.5 x 13.25 inches. The cartoon shows a curvy blonde with her hands bound behind her back, about to get a spanking from her husband. It was sold to Humorama Inc. [Worthpoint knew this because of the stamp on the reverse side - Web-Ed] and originally appeared in Joker (July 1959). [This appears to be an error, because we found it in the July 1959 issue of Jest, not Joker. They probably misunderstood the abbreviations on the reverse side, which were sometimes hard to read - Web-Ed]. It was reused for Laugh Digest (December 1971)."