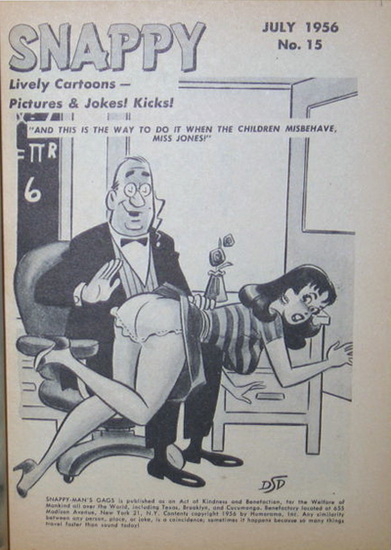 The cartoon's first appearance in the July 1956 issue of Snappy. Posted by the Web-Ed on 04/13/2012.
Perhaps because corporal punishment was a fact of life in many American schools (and still is, although the practice seems to be dying out), a female teacher being spanked herself is a logical idea for a cartoon, but this one by Dan DeCarlo is the only one we can think of that appeared in Humorama. "And this is the way to do it when the children misbehave, Miss Jones!"
Typical of DeCarlo is the gag which revolves around an attractive young woman being spanked on a very flimsy pretext for the spanker's obvious pleasure. We have tried to come up with a concise critical term for this type of gag, but the best way we can express it is anything but brief: nudge-nudge, wink-wink, one old boy to another - humor that will appeal to every male but set the feminist's teeth to grinding. DeCarlo also gives us a nice view of the pretty spankee's bottom, the only problem with his OTK positioning being that she appears to be weightless - not pressed against his lap - but this is a minor fault.
Below left: a photostatic copy probably of the original appearance, origin unknown but may be from Jeff Patton, a Humorama collector. Below right: Funbun's bare bottom alteration, based on a reprinted version of the cartoon (note different caption), probably the same one that Mike collected (see further below).