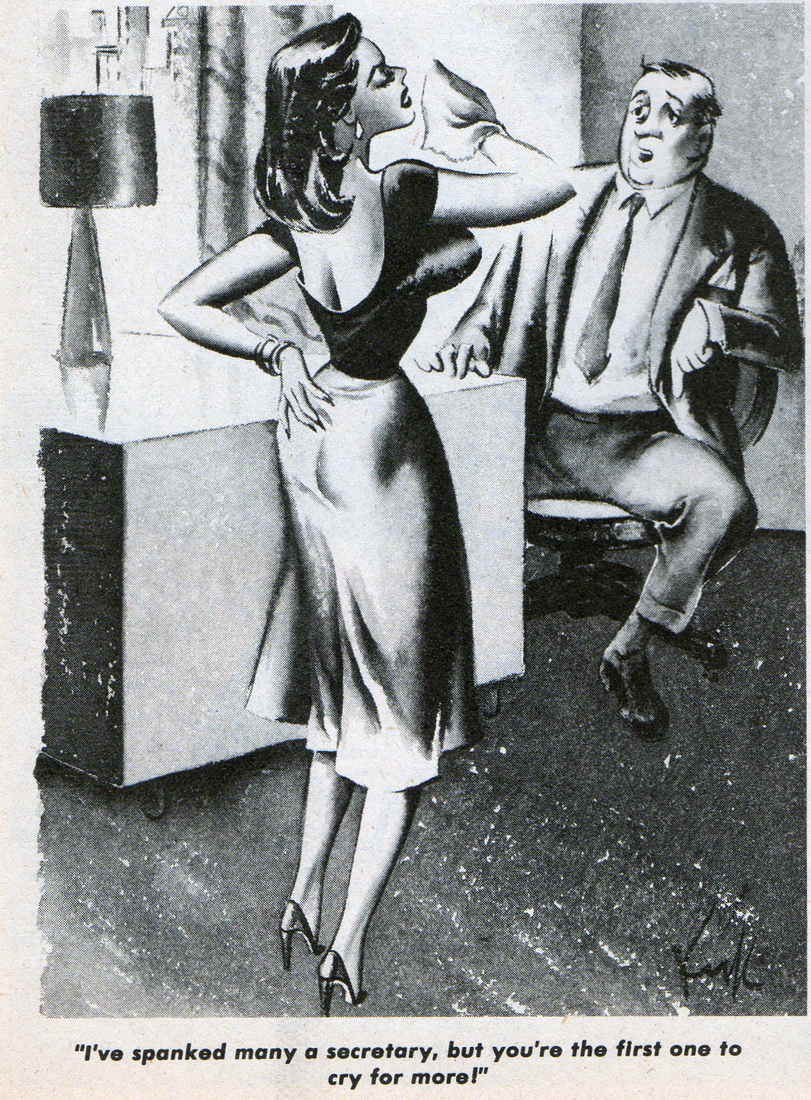 From Cartoon Parade (October 1972, Web-Ed's collection). Click to increase in size.
Kirk Stiles was the only one among The Big Five Plus One (Ward, Wenzel, Stiles, DeCarlo, Homer, and Morrice) who sometimes gives us a "one minute before the spanking" cartoon. We almost missed this one for that reason: we were scanning the October 1972 issue of Cartoon Parade looking for the OTK or bending-over positions, but the secretary here is still being beckoned to her appointment over her boss's knee.
"I've spanked many a secretary, but you're the first one to cry for more!". We like the "spanked many a secretary" part - this guy's o.k. in our book - but it seems likely the second part originally went something like "You're the first one to cry before the spanking begins!" based on the fact he's clearly beckoning her to turn herself over his knee. On the other hand, the secretary could be rubbing her sore bottom with that left hand - if so, it's the first and only time we've seen that in a "true" Humorama spanking cartoon (one in which an OTK spanking is either shown or implied). Not only do we like after-the-spanking rubbing, it would suggest here that she is indeed headed back across the knee for a second dose of the palm!
With the composition so different because of the lack of either the OTK or bending-over positions, Stiles avoids any problems with ambiguous lingerie or bulging thighs - our well-proportioned secretary's rear extends rearward past the thighs, as it should. The tiny feet we've come to expect from Stiles; her lower legs are a little thin, though. There are some unevenesses in the ink wash used on the desk and floor, but whether they were there in the original art or are the result of a defect in the photographic portion of the printing process we can't say without seeing the cartoon's first or second appearance (this was probably its third) which have somehow managed to escape us up to this point.