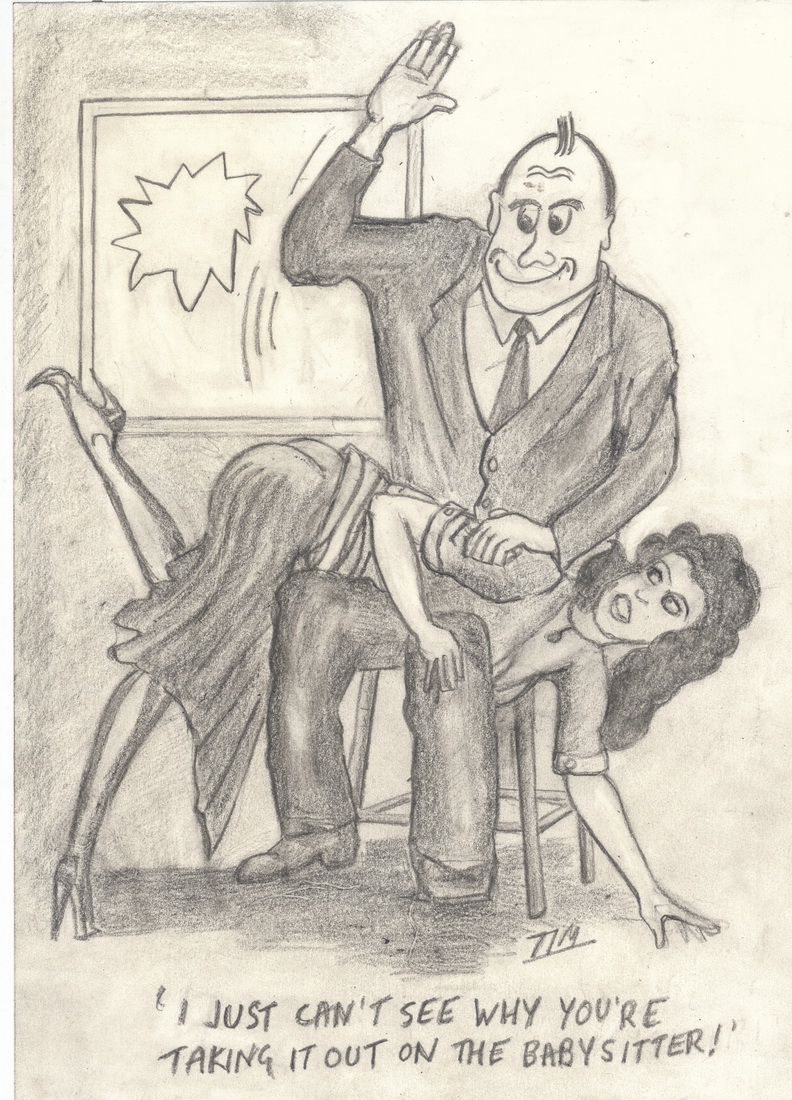 Created by Tim. Posted by the Web-Ed on 05/01/2015 (click to double-size).
We continue Tim's series of Humorama Pastiches with "The Babysitter". Like our last entry, "Backstage," there is a definite flavor of Humorama here, perhaps Dan DeCarlo or George Morrice, as a babysitter is spanked for the misdeed of one of her charges, and a relatively innocent misdeed (breaking a window with a batted ball) at that. The sitter-spankee (soon to be non-sitting spankee!) does not understand how much enjoyment the neighbor-spanker is deriving from whacking her nicely-upturned rear end. Actually, this type of gag may go back to the Marx Brothers movie Horse Feathers, in which Groucho plays Prof. Wagstaff. In class, his student Pinky (Harpo) has pulled a prank by putting a pin-up over a chart:
Wagstaff (to Pinky): You must be punished. (Gestures to a girl in the first row.) Just for that, you stay after school.
Co-ed: But professor, I didn't do anything!
Wagstaff: I know, but there's no fun keeping him after school!
Excellent OTK positioning with the spankee bent over at a right angle, fanny raised up nice and high. Tim gives her nicely-rounded buttocks great definition with a good long line, and she has a sweetly innocent expression that shows she doesn't understand why she and not the actual culprit is being spanked. A great effort for the penultimate entry in this series!